Categories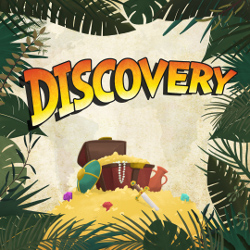 More Details ›
Discovery 8-Week Curriculum Series
Connecting the Old and New Testaments
Discovery
is an 8-week series where kids will learn how the Old and New Testaments are connected and support each other each week. They will be encouraged to dig deeper into God's Word! During small groups, kids will go on a Footnotes Treasure Hunt where they will learn how to use footnotes and that many verses in the New Testament quoted verses from the Old Testament.
Series Verse: "All Scripture is God-breathed and is useful for teaching, rebuking, correcting and training in righteousness," 2 Timothy 3:16 (NIV)
About This Curriculum:
Perfect for elementary kids, ages 5-12
8 weeks of teaching materials
Includes large group and small group resources
Available as an instant download
Download a free sample here
Includes a high-quality bumper video, graphic slides, and social media images
Each Week Includes:
Series and weekly verses
A Takeaway statement
2 game options
Skit
Message/Object Lesson
Small group discussion
Review questions
Take-home card
Click here
for more detailed information on each week's lesson.
Delivery of your product will be via a secure download link sent by e-mail shortly after purchase. Links expire 7 days after purchase.
---
Related Products