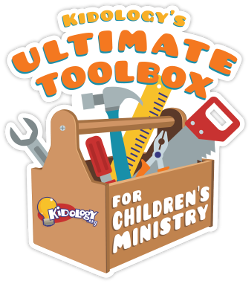 Kidology's Ultimate Toolbox for Children's Ministry (Download)
Equip yourself with the tools you need to build a ministry that will last!
Pastor Karl has been building solid children's ministries and developing leaders for decades and now he has put together a Toolbox loaded with his sharpest tools! In addition to the helpful tools in this 336 page book, Karl has added over 40 bonus downloadable PDF forms and videos to sharpen your ministry skills.
This Toolbox covers these five areas of ministry building skills:
Personal Tools
Leadership Tools
Teaching Tools
Training Tools
Outreach Tools
If Children's Ministry leadership was a construction site – you'd want the sharpest, time-tested tools recommended by a veteran who had worked on a wide variety of projects.
Read what others are saying about this book:
"This book is a gold mine of information on how to build a God-honoring children's ministry from the number one expert on the subject. I have experienced first-hand Karl's practical wisdom and contagious enthusiasm for reaching and teaching children. Whether you have been in ministry a long-time or are a newbie, I guarantee you will gain tools you can put to immediate use. Thank you Karl for sharing what God has taught you over the years!"
— Dan Huffman, Pastor of CompassKids The Compass Church, IL
"Kidology's Ultimate Toolbox isn't a toolbox you grab for one little job. No, there's an entire garage full of tools in this book! Karl has gathered all the critical lessons he's learned over his decades in kidmin and presented them in concise nuggets. You're getting the essential information - short and sweet - regarding just about every topic related to children's ministry that you can think of. The colorful pages, extra space between lines, and the wide side margins make it ideal for making notes about your ministry for future reference. If I had to describe this book in one word, it would be 'comprehensive.' Everything you need is here! Karl left nothing for a sequel!"
- Tina Houser, author, speaker, trainer
"If you ever wished there was a blue print for building a children's ministry – I've got good news for you – there is! Karl Bastian has written it!" – D.B.
336 pages, published by RoseKidz.
Prefer to order a softcover book?
Bonus materials available at Kidology.org/toolbox
This download resource is available instantly after purchase by clicking on My Downloads at the top of any page.
---
Related Products