Donation/Special Payment to Kidology
THANK YOU FOR YOUR SUPPORT
Kidology is a 501(c)(3) non-profit ministry whose Mission is to Equip and Encourage Those Who Minister to Children. We impact and influence leaders, volunteers, churches, para-church ministries, students and missionaries in all 50 states and all over the world through the resources on this website and the products that we produce.
We are supported by the generosity of our donors, members and customers.
If you would like to make a tax-deductible donation to Kidology, you can make an online donation using the form below, or mail a check to Kidology at the address provided here.
Mail checks to:
Kidology Inc.
c/o Karl Bastian
15615 Carob Circle
Parker, CO 80134
You may also use this page for making a special one-time payment if you have been instructed to do so by our staff to cover shipping, additional payments, advertising payments, etc. Please note in the comments the nature of your payment so it can be properly accounted for.
For all online payments, you will receive a receipt in your e-mail shortly. If you are making a donation, you will receive a receipt with the tax-deductable donation amount. Please retain it for your records.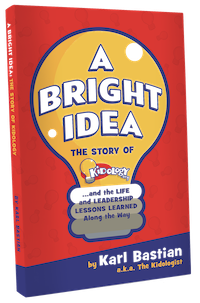 In 2019, Kidology celebrated 25 years!
To preserve the legacy of this non-profit ministry, Karl wrote a book: A Bright Idea, The Story of Kidology.org. For any donation of at least $25, you may request for Karl to send you a copy.
From the Back Cover:
"It all started with an idea...
Before Google. Before YouTube. Before eBay. A rookie children's pastor discovered this thing called the internet. Then God gave him a Big Idea to use this new global network as a tool to fulfill his life mission of equipping and encouraging those in children's ministry. In 1994, Karl started a website called Kidology - the study of kids and how to minister to them. The story of how God has grown and used this ministry over the years offers principles that any leader can learn from. You've used Kidology to make your ministry easier. Now learn the story from behind the scenes."
Please email support@kidology.org if you would like a copy of Karl's book mailed to you (contiguous US only).
Thank you for your support! It is very much appreciated!
Note: The personal information below is required to ensure your credit card is securely and properly processed. This information is soley used for the processing of the credit card and will not be retained. Your transaction is secure.