Donation/Special Payment to Kidology
This page can be used for making a tax-deductible donation to Kidology, Inc. or for making a special payment if you have been directed by our staff. If you'd like, you can also Donate via PayPal. No matter which method you choose, you will receive a receipt in your e-mail shortly.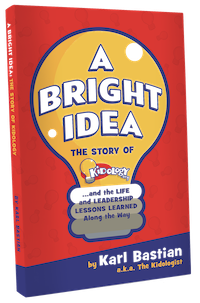 Kidology is celebrating 25 years! For any donation of at least $25 Karl will be sending a copy of his new book in January as well as making a donation to some of his favorite ministries that share his passion for reaching and teaching kids. Thanks for your support! It is very much appreciated!
The personal information below is required to ensure your credit card is securely and properly processed. This information is soley used for the processing of the credit card and will not be retained. Your transaction is secure.