Stickers Through the Bible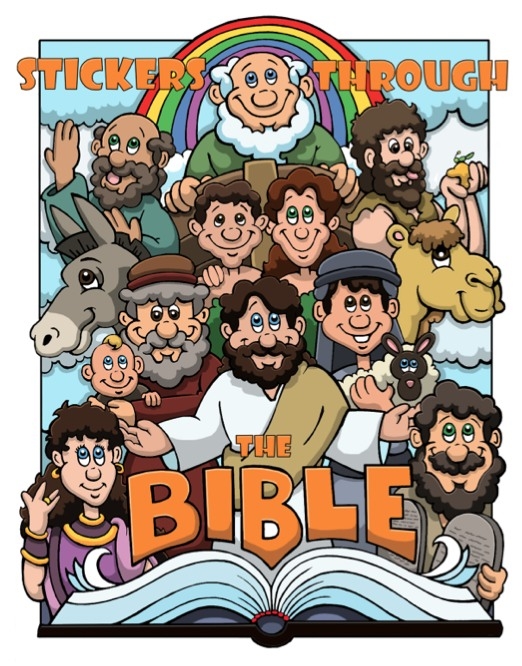 DOWNLOAD COMPLETE BROCHURE (2.5MB PDF)
Stickers Through the Bible (STTB) is a revolutionary concept that allows non-readers to feel like they are "reading" and mastering the Bible, even before they can read. They will learn basic Bible facts and gain an understanding of the overview and flow of God's Word and a fundamental mastery of the Book. The advantages this will give them later in their Christian life are significant; most of all, a love for God's Word and a desire to be able to read it!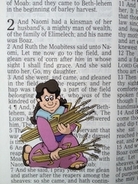 The curriculum features some beautiful art that is exclusive to this material. While there are several features that will be explained below, the core of the concept is that children are given a standard text Bible (not a children's picture or story Bible), and as they learn about the Bible they place stickers in their Bible over the stories they are learning about. This is where the name "Stickers Through the Bible" comes from. By the end of the year, and after they have finished the survey through the Bible, the children will have a keepsake Bible that is filled with stickers from their journey through the Word of God.
There are several other visual learning tools as well. The curriculum provides additional teaching activities and classroom ideas to help provide teachers with ideas for engaging children in the learning process. Welcome activities, games, snacks, sing-along songs, and other tips are provided for a time that is filled with learning from the moment they arrive until their parents come to pick them up. Children are sent home with a two-page guide for parents so that they can join in the process of following up with their children by reading the Bible story again in a fresh way, reviewing it with questions, and using some of the activity suggestions during the week. All in all, Stickers Through the Bible is a thorough Bible survey curriculum that introduces non-readers to the Bible in a fun and engaging way, even before they can read. It provides them with a love for God's Word and a desire to learn more so that when they start reading, they will have gained some basic information and a curiousity about this amazing Book!
I've been using the Stickers Through the Bible Curriculum with my preschoolers!
Their excitement and retention is AMAZING!
Loving Him and serving them,
Karla G
Order Stickers Through the Bible here. Or keep reading for more information.
Learn More in This Video:
Elements of Stickers Through the Bible

THE BIBLES

While children may have their own Bibles that parents have provided, for this curriculum the church provides a traditional, text-only Bible with a blank cover - usually a black award Bible. These can be purhcased online at a retailer such as Mardel. As you can see on this page, you can buy 10, 12, or more, and they can end up costing about $5 each. If you shop the Bible stores for specials, you can often get them for as low as $4 for the student Bible.

The Teacher has a larger Bible for teaching and demonstrating where to put the stickers. The curriculum provides large stickers for this. We recommend Alibris.com for these Bibles. It is the Keystone Giant Print KJV. It usually cost about $20. Remember, the version does not matter, because you are not reading from these Bibles, you are placing stickers in them.

We recommend that Books of the Bible tabs be placed in the Bibles to help kids learn where the books of the Bible are, but this is optional.

The Bibles should stay at church during the year. While you could send them home with the students, it would then be mandatory that they bring their Bibles back to church, otherwise they could not participate in the sticker placement. Thus, it is best to just leave the Bibles at church, and let them take them home at the end of the year.

THE STICKERS

Every lesson plan contains multiple stickers that have been custom made for that lesson. These are exclusive to Stickers Through the Bible. (Download the images to see them larger.)

Note: these are not pre-made "peel and stick" stickers, but images that are provided to make stickers. Several options for how to do this are provided in the material. This way, you can make as many as you need depending on the size of your class or ministry.

You will not find these in any "clip art" collection anywhere else. They are adorable and biblically accurate (for example: Ehud, the left-handed judge!) They are provided in two sizes, large for the Teacher's Bible, and smaller for the student Bibles. As the teacher teaches the Bible story, the students place the stickers in their Bible. The exact location is not critical, but they go near the story that is being told. There are also stickers for the Bible Fortress.

THE BIBLE FORTRESS

In addition to learning about the stories of the Bible, your students will learn a fun overview of each book of the Bible through the Bible Fortress. A poster of the Bible Fortress will be displayed in the room, and it will have empty spaces for each book of the Bible. Each week, your class will add the stamps for the corresponding books of the Bible that were included in the lesson. You will also send home a Bible Fortress poster at the beginning of the year for the kids to put up in their bedroom. The kids will take home the stamps of the books that were covered that Sunday in class. Here are some samples:

As kids add to the Bible Fortress in the classroom and take home the stamps to add to the Bible Fortress in their bedroom at home, the pictures help bring the books of the Bible to life. They provide a summary of what that book of the Bible is about and why it was written, as well as providing conversation starters for parents. Children will use this Bible Fortress well into their elementary years as a guide to understanding the Bible.

THE BIBLE TIMELINE

The Bible learning doesn't stop there! Not only are your young students learning to love the stories of the Bible as they place "Stickers Through the Bible," and put books of the Bible stickers on their Bible Fortress, but each week another page is added to the classroom's Bible Timeline. (Click to view each larger in a new window.)

This beautiful Bible Timeline can be displayed around the room, or it can simply be used to build a book that the children review each week with their teacher, reviewing over and over the stories they have learned. Repetition is so important with young learners. Imagine first graders who have done a complete Bible survey as a preschooler and who already have a grasp of the flow of the Old and New Testaments even before they begin to read!

Since the Sticker Bibles remain at church until the end of the year, a copy of the Bible Time page can be sent home with each student so that they can be building a notebook at home for their parents to use to review the Story of the Bible with their child throughout the year.

BIBLE FACTS

Some very simple and basic Bible facts will be taught to your students and reviewed throughout the year; things like, "Who wrote the Bible?" "How many books are in the Old Testament? New Testament? The whole Bible?" By the time your students finish Stickers Through the Bible, they will love their special Bible and have learned some basic skills and facts that will have them eager to learn more as their skills and abilities grow in the years ahead.

SAMPLE LESSON

Below is a sample lesson that you can download to get an idea of what a stand-alone lesson plan will look like. (The watermarks will be removed from purchased curriculum.) You will notice that the lesson includes:

A One Page Overview for the Teacher:

Make it Stick Statement: The "Big Idea" of the lesson.
Start It: A welcome activity to engage the children.
Play It: A fun game related to the lesson.
Learn It: The Bible story time.
Stick It: The sticker time.
Sing It: An easy song based on the lesson, sung to a familiar tune.
Post It: The Bible Fortress and Bible Timeline segment.
Send It: The take home pages for parents.

A One-Page Bible Lesson and Song Sheet (more detail on the lesson)
A Two-Page Take Home Devotional Sheet (can be printed back to back)
A Bible Timeline Page
Teacher Sized Stickers with description and text
Student Sized Stickers

Not included in the sample are the detailed teacher instructions, "How to teach Stickers Through the Bible." This will come with purchase.

Download Lesson Four Sample (5.9 MB)
Download Scope and Sequence (1.1 MB)

Please do not share this PDF with others. Instead, direct them to this page so that they will get the explanation along with the download: Kidology.org/STTB

THE COST

Stickers Through the Bible is a 52-lesson program divided into four 13-week segments. It is completely downloadable and reproducible, though it will require some preparation each week in cutting out and preparing the stickers. (They are not 'peel and stick' stickers.) You will need to purchase Bibles for your students and at least the primary teaching teacher. (See the section above on Bibles, if you have not already.)

Stickers Through the Bible is discounted for Kidology All Access Members. When you purchase Stickers Through the Bible, you are making a one-time purchase for a license to use the curriculum in your local church. It is not transferable to other churches; however, there is no further or future purchase required. We may be coming out with supplemental products to enhance Stickers Through the Bible in the future, but they will be optional add-ons; none of them will be required resources. You'll have everything you need to teach this material.

Year Plan. The entire 52-week curriculum, without the All Access Member discount, is $349.00 if purchased in full. ($299.00 for Kidology All Access Members)

Kidology is continually updating and revising the curriculum based on feedback, and often send completely updated files to everyone who has purchased in the past, at no additional charge.

Quarterly Plan. The curriculum is also available at a quarterly rate of $99 per quarter. For churches that want to try it for a quarter rather than commit to a full year, this is the ideal way to try it out, however, the best deal is to purchase the entire year.

NO OTHER PRESCHOOL CURRICULUM LIKE THIS

If you have read The Kidology Way, then you know that we firmly believe in the importance of laying a solid biblical foundation for our kids, and we don't believe you can start too young! We are very excited about the potential impact of Stickers Through the Bible and hope you will join us in teaching young children about the Bible in a fun and creative but meaningful way.

We have been using STTB for a few weeks now and we love it! Our kids are excited about their lesson and don't even ask to play with the toys in the room. Our teachers love it. One of my teachers didn't grow up in church and she says she is learning a lot. Our parent's are happy because they want to know what their children are learning in church and the sheets that we send home with them not only achieve that but give them materiel to continue to work with their child at home. Most parents want to teach their children about God's word but just don't know where to start. - Brittany Cottle


DOWNLOAD COMPLETE BROCHURE (2.5MB PDF)

NOW available in the Kidology Store:

Stickers Through the Bible - 1st Quarter

Stickers Through the Bible - 2nd Quarter

Stickers Through the Bible - 3rd Quarter

Stickers Through the Bible - 4th Quarter

Stickers Through the Bible - Complete Year