Privacy Policy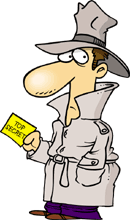 Kidology, Inc. greatly values your support, and as such, we respect your privacy with integrity. To better protect your privacy we provide this notice to explain our online information practices and the choices you can make about the way your information is collected and used.

Overall, personal information submitted is solely for the purpose of better serving our members and is confidential. This information is not sold, rented, loaned, or given away to any person, company, or organization. We do not share this information with outside parties except to the extent necessary to complete an order (such as via a third-party selling in the Kidology Garage Sale).

Information We Collect

This policy applies to all information collected or submitted on Kidology.org. In regards to memberships and product sales, we collect the following information:
Name
Address
E-mail Address
Phone Number
Credit/Debit Card Information
Password created for Kidology
Date of purchase/expiration
In the case that a product shipment is sent to an address different from the billing address, we collect the following information in regards to the recipient:
Name
Address
Phone Number
We use the information you provide about someone else when placing an order only to ship the product and to confirm delivery. We do not share this information with outside parties except to the extent necessary to complete that order.

We use return e-mail addresses to answer the e-mail we receive. Such addresses are not used for any other purpose and are not shared with outside parties.

We use non-identifying and aggregate information to better maintain and improve our website and to share with advertisers. For example, we may tell an advertiser that X number of individuals visited a certain area on our website, but we would not disclose anything that could be used to identify those individuals.

We does not send unsolicited e-mail. All e-mail subscriptions sent from Kidology, Inc. are strictly opt-in newsletters or notifications. In addition, communications are sent to Kidology Members in regards to administrative attributes about their memberships, such as pending expiration. E-mail newsletters may contain brief commercial advertisements from other ministry-related people, companies, or organizations that Kidology has determined would be of interest to our members.

Finally, we never use or share the personally identifiable information provided to us online in ways unrelated to the ones described above without also providing you an opportunity to opt-out or otherwise prohibit such unrelated uses.

Data Security

To prevent unauthorized access, maintain data accuracy, and ensure the correct use of information, we have put in place appropriate physical, electronic, and managerial procedures to safeguard and secure the information we collect online.

Collection of Online Data

Kidology, Inc. does not collect any data from visitors to our site other than membership information that is voluntarily provided via the membership sign up process. We do not save credit card information on our server or collect any information about our visitors Internet activity. Cookies are used solely for log in via the "remember me" feature. Membership information can be deleted at any time, via written request, but will terminate the membership without refund.

Children's Privacy

As we are a children's ministry resource, we take the privacy of kids very seriously. For that reason, we never collect or maintain information from those we actually know are under 13, and no part of our website is structured to attract anyone under 13.

How You Can Access or Correct Your Information

You can access all your personally identifiable information that we collect online and maintain via My Kidology Membership Center. Here you can update e-mail address, contact information, and other aspects of your Kidology Membership.

How To Contact Us

Should you have other questions or concerns about these privacy policies, please feel free to Contact Us.