FUNtastic Bible Activity Book Outreach Tool
FUNtastic Bible Activity Book - An Outreach Tool Template
Introducing The FUNtastic Bible Activity Book! It's the perfect gift to distribute to kids to both share the Good News of Jesus and invite them to your church!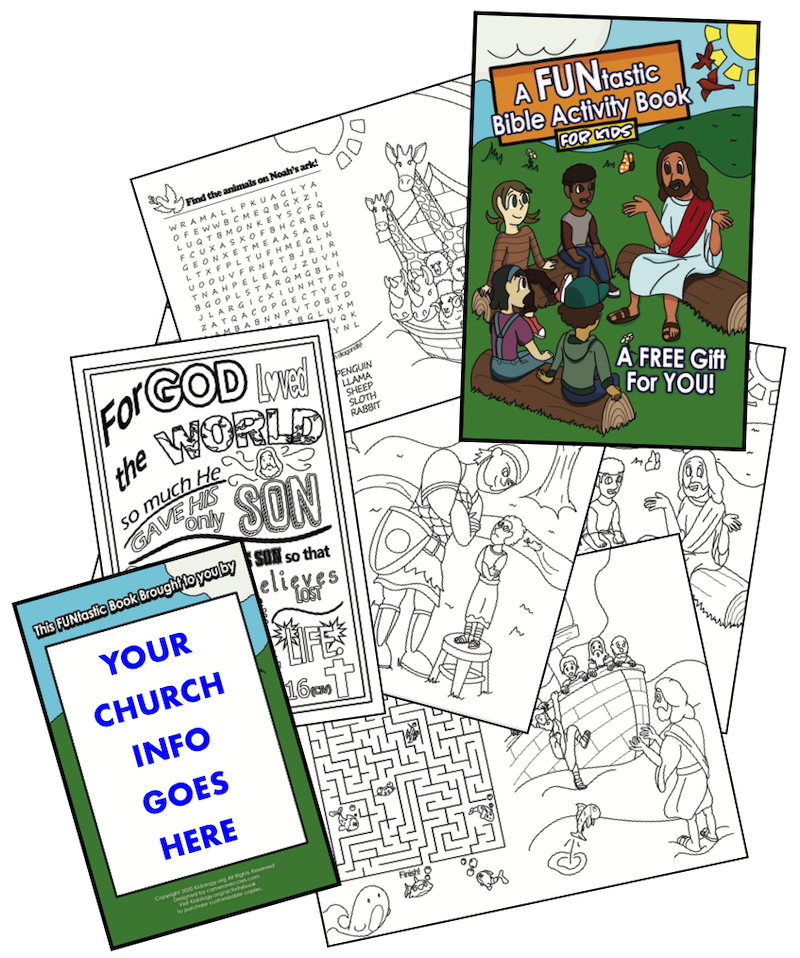 The FUNtastic Bible Activity Book is a TEMPLATE with a customizable back cover to promote your local church ministry.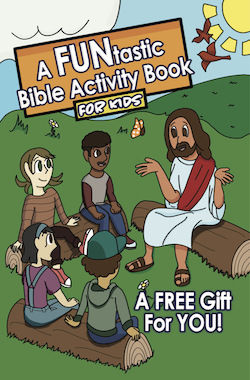 We have many opportunities to minister to kids in the community, but how do we get them to visit our church?
Whether you give these away at Trunk or Treat, provide to families to give Trick-or-Treaters, or use at other community outreaches, this original kid-sized book is a fun, interactive, and non-threatening way to share the Good News of Jesus.
It also provides a tangible gift that can introduce families to your church.
Include your church's information on the back cover to let them know where to find you! You can even measure response to the outreach by including a coupon for a small gift if they present it at check-in.
The FUNtastic Bible Activity Book is intentionally non-seasonal so it can be used at any time throughout the year. Use it as a gift for visitors or as a follow-up gift to guests who visit your church. There are so many ways to use this book to introduce families to your church!
HERE IS A VIDEO OF PASTOR KARL EXPLAINING WHY HE CREATED IT:
Print in-house, use an online printer, or use Karl's recommended CreativeMin.com to order your books.
All you have to do is customize the back cover with information about your church, the rest is ready to go!
This purchase provides you an UNLIMITED LICENSE for your local church to print as many copies as you need as well as the customizable files to upload to a printer of your choice. Your license never expires, but is limited to one local church ministry.
Purchased Download Includes:
Color Front and Back Cover, a total of 8 inner pages, 2 stand alone, and 3 spreads of facing pages
Color Cover: Jesus with the Children
Coloring Page: Jesus with the Children
2 Page Spread: Sea of Galilee Maze and Jesus Walking on the Water Coloring Page
2 Page Spread: David and Goliah: Spot the Difference Coloring Pages
2 Page Spread: Noah's Ark Word Search and Coloring Page
Coloring Page: John 3:16 to share the Gospel
Color Back Cover: customizable for your ministry promotion
Format:
.PDF Files (Front and back cover and inside pages)
.PSD [Photoshop] File (to edit back cover)
BOTH bleed and no-bleed files are provided
Need design help? Let us know! We can hook you up with an affordable designer who can create a custom back cover with or without the white box. (See Karl's custom back cover in the video.)
Have Questions before or after ordering?
ASK HERE!