Kidmin Talk Zone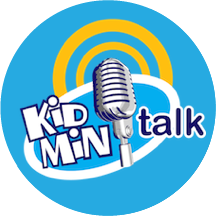 Kidmin Talk, with over 100 episodes "in the can," has been the TO GO TALK SHOW for Kidmin since 2011.
The goal of every show is to Equip and Encourage!
Enjoy answers to questions submitted by Kidology Members, watch object lessons that are the result of listeners attempts to "Stump the Kidologist" (it's never been done), insightful teaching, tips on current kid culture, and more!
You can access the complete archives for Kidmin Talk and the Children's Ministry Podcast for episodes 1-109. The Kidmin Talk Zone hosts all episodes from 110 and after.
‹ Back to Zones
Guest

›
Starter

›
All Access
Level
Title
Topic
Kidmin Talk #116 - February 11th 2019

Kidmin Talk #116 - This Special Edition Kidmin Talk features 17 year old Camille McKeever interviewing Karl for a school assignment as she prepares for a career in kids ministry. Learn some never before told stories from how Karl got into kids ministry and how Kidology started.

Interview with a Future Kids Pastor
Kidmin Talk #115 - January 12th 2019

Kidmin Talk #115 -Pastor Karl wants to make you look good in 2019 by providing tools for YOU, your leaders, your parents and your kids - plus recruiting tools and more for 2019! Watch this short Kidmin Talk to learn about Kidology's NEW Booster Packs! Kidology is going to make your ministry better and easier in 2019!

Give Your Kidmin a BOOST in 2019
Kidmin Talk #114 - December 2nd, 2018

Kidmin Talk #114 - Pastor Karl shares four keys to ending your ministry year well and setting yourself up for success in the next year!

Ending the Year Well
Kidmin Talk #113- October 22nd, 2018

Kidmin Talk #113 - Pastor Karl shares an object lesson that could just change your life! Plus, he answers the question, how important is it to be on the cutting edge in children's ministry? His answer may surprise you!

The Object Lesson of Life, Technology and More!
Kidmin Talk #112- September 28th, 2018

Kidmin Talk #112 - Pastor Karl found a box on his front porch - what could it be?!?! It was the FIRST COPY of his new book, Kidology's Ultimate Toolbox for Children's Ministry! Learn what's inside.

The Unboxing of Karl's newest book!
Kidmin Talk #111 - September 17th, 2018

Kidmin Talk #111 covers Righteous Pop Music, Story Sticks, the best kidmin event ever and what can we learn from dusty old CE books?

Story Sticks, Nerf Wars, and Dusty Old CE Books!
Kidmin Talk #110 - September 4th, 2018

The NEW Kidmin Talk Show #110 covers teaching kids grace, Fortnite, health in ministry, and more!

Zarf, Grace, Fortnite and More!
Showing 1 - 7 of 7 results