Kidmin Talk Zone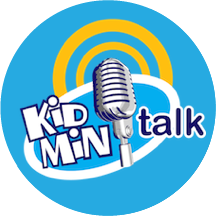 Kidmin Talk, with over 100 episodes "in the can," has been the TO GO TALK SHOW for Kidmin since 2011.
The goal of every show is to Equip and Encourage!
Enjoy answers to questions submitted by Kidology Members, insightful training and teaching, tips on current kid culture, and more!
You can access the complete AUDIO ONLY archives for Kidmin Talk and the Children's Ministry Podcast in the Audio Podcast List. Here, the Kidmin Talk Zone, hosts all VIDEO episodes from 110 and after.
‹ Back to Zones
Guest

›
Starter

›
All Access
Level
Title
Topic
Kidmin Talk #127 - February 11th, 2020

Easter is coming! How do you plan effective outreach events? Karl shares insights from his EGGstravaganza Easter event at his church, and reveals his new book, A Bright Idea.

Event Planning
Kidmin Talk #126 - February 3rd, 2020

How to staff the kids ministry when it's in critical condition. Stanley Mearse joins Karl Bastian as they discuss how to recruit when it seems like there aren't enough people to fit your needs. Today's show sponsored by Protect My Ministry.

Recruiting
Kidmin Talk #125 - January 21, 2020

CPC review, Family Ministry Workshop Summary, Kids Follow Up Tool and more! Today's show sponsored by the amazing follow up book, My Brand New Life.

Family Ministry and More
Kidmin Talk #124 - December 19th, 2019

Kidmin Talk #124 - Introducing Kidology Master Classes Kidminism - We never grow alone or in a vacuum! Starting in 2020, Pastor Karl will be leading a series of Master Classes to help you take your personal development as well as your ministry to the next level beginning with a course in January titled, "Thriving in Ministry." Learn more in this video sponsored by The Kids Visual Study Bible from Zonderkidz.com

Kidology Master Class
Kidmin Talk #123 - December 13th, 2019

Kidmin Talk #123 - The Nativity Challenge! A new Christmas Game from Pastor Karl Bastian. Sponsored by The Jesus Storybook Bible from Zonderkidz.com

The Nativity Challenge
Kidmin Talk #122 - October 29th, 2019

In this 122nd episode of Kidmin Talk, Pastor Karl Bastian, founder of Kidology.org, is getting ready for Christmas! WIN a free Christmas Clue Hunt game, find out what Karl is teaching in December, and more!

Christmas is Coming! Are you ready?
Kidmin Talk #121 - October 23rd, 2019

In this 121st episode of Kidmin Talk, Pastor Karl Bastian provides six principles for impacting every child on Sunday. Also, Karl offers an insiders review of KidCheck, the premiere children's ministry check-in system.

IMPACTing Every Child, Every Sunday, Plus KidCheck
Kidmin Talk #120 - October 16th, 2019

Kidmin Talk #120 - Karl Bastian, founder of Kidology.org, shares a musical outreach tool, a crazy object lesson, updates on conferences he'll be at and his first Kidology Kidminism. Listen to be Equipped and Encouraged!

Outreach Tool, Object Lesson, Conferences, & More!
Kidmin Talk #119 - August 1st, 2019

Kidmin Talk #119 - It's Back to School Time! Karl talks about getting ready for the fall, the launch of his preteen ministry and creative recruiting tools!

Adventure Bible, Preteen Ministry, and Recruiting
Kidmin Talk #118 - April 17th, 2019

Kidmin Talk #118 - Karl gives his personal review of the new Pilgrim's Progress movie that is coming out April 18th and 20th, 2019. Was it too scary? Why should you go see it? After a screening at his church, Karl shares how well it was received and gives some sneak peek highlights of the film.

Inside Scoop on New Pilgrim's Progress Movie
Kidmin Talk #117 - March 4th 2019

Kidmin Talk #117 - Karl welcomes Pastor Jason Noble onto the show, the pastor who was at the center of the incredible story in the new movie, Breakthrough. They talk about the movie, but also how to minister in the midst of change and crisis. Jason, a kids pastor who became a lead pastor also has some unique insight on how to have more success working with your senior pastor.

Interview with Jason Noble from Breakthrough Movie
Kidmin Talk #116 - February 11th 2019

Kidmin Talk #116 - This Special Edition Kidmin Talk features 17 year old Camille McKeever interviewing Karl for a school assignment as she prepares for a career in kids ministry. Learn some never before told stories from how Karl got into kids ministry and how Kidology started.

Interview with a Future Kids Pastor
Kidmin Talk #115 - January 12th 2019

Kidmin Talk #115 - Pastor Karl wants to make you look good in 2019 by providing tools for YOU, your leaders, your parents and your kids - plus recruiting tools and more for 2019! Watch this short Kidmin Talk to learn about Kidology's NEW Booster Packs! Kidology is going to make your ministry better and easier in 2019!

Give Your Kidmin a BOOST in 2019
Kidmin Talk #114 - December 2nd, 2018

Kidmin Talk #114 - Pastor Karl shares four keys to ending your ministry year well and setting yourself up for success in the next year!

Ending the Year Well
Kidmin Talk #113- October 22nd, 2018

Kidmin Talk #113 - Pastor Karl shares an object lesson that could just change your life! Plus, he answers the question, how important is it to be on the cutting edge in children's ministry? His answer may surprise you!

The Object Lesson of Life, Technology and More!
Kidmin Talk #112- September 28th, 2018

Kidmin Talk #112 - Pastor Karl found a box on his front porch - what could it be?!?! It was the FIRST COPY of his new book, Kidology's Ultimate Toolbox for Children's Ministry! Learn what's inside.

The Unboxing of Karl's newest book!
Kidmin Talk #111 - September 17th, 2018

Kidmin Talk #111 covers Righteous Pop Music, Story Sticks, the best kidmin event ever and what can we learn from dusty old CE books?

Story Sticks, Nerf Wars, and Dusty Old CE Books!
Kidmin Talk #110 - September 4th, 2018

The NEW Kidmin Talk Show #110 covers teaching kids grace, Fortnite, health in ministry, and more!

Zarf, Grace, Fortnite and More!
Showing 1 - 18 of 18 results