Kidology's Ultimate Toolbox for Children's Ministry
Equip yourself with the tools you need to build a ministry that will last!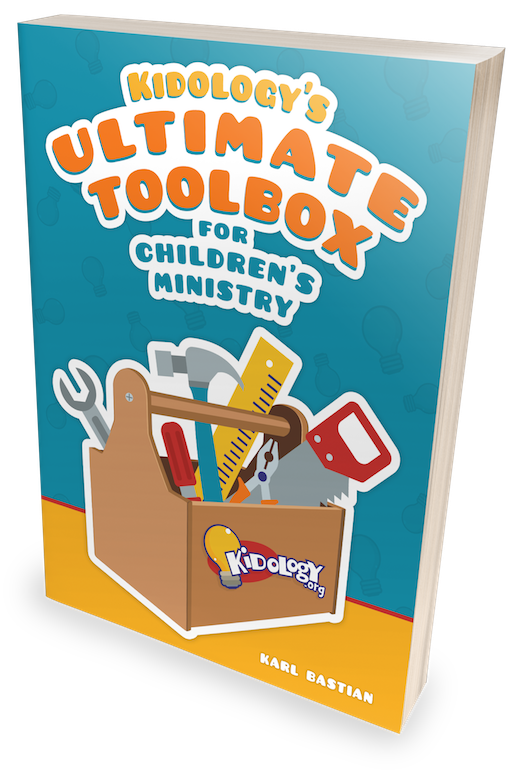 Pastor Karl has been building solid children's ministries and developing leaders for decades and now he has put together a Toolbox loaded with his sharpest tools! In addition to the helpful tools in this 336 page book, Karl has added over 40 bonus downloadable PDF forms and videos to sharpen your ministry skills.
This Toolbox covers these five areas of ministry building skills:
Personal Tools
Leadership Tools
Teaching Tools
Training Tools
Outreach Tools
If Children's Ministry leadership was a construction site – you'd want the sharpest, time-tested tools recommended by a veteran who had worked on a wide variety of projects.
If you already own the Ultimate Toolbox book, then you will find all the extra resources here!
You can purchase the book, physical or digital, using the links below.
Welcome to the TOOLBOX HUB!
Kidology's Ultimate Toolbox for Children's Ministry, by Karl Bastian, is your print and digital toolbox for building a ministry that will last.
THIS PAGE is the Digital Hub for BONUS CONTENT referenced in the book.
SNEAK PEEK! Watch Karl's Unboxing of his first copy and get a peek inside!
ORDER THE BOOK! Order a Print Copy Right Now!
DOWNLOAD NOW! Order the Digital Version and Download Today!
LIMITED TIME DEAL! Order the Print Version, GET DIGITAL FREE!

From here you can access additional digital add-on tools, bonus content and helpful links to enhance your ministry building project!
The Toolbox is organized into five Ministry Improvement Sections with an introduction video for each and then a final challenge from the author.
Visit each section by following the links below. If you came here directly from the book - welcome! Simply follow the links below to find the video or resource referenced in the book. If you are here to learn more about the book, welcome! You can order the book via the links above.
INTRODUCTORY VIDEO:
BONUS CONTENT and LINKS for the Introduction:
VISIT THE OTHER TOOLBOX DRAWERS:
Introduction to the Toolbox
ORDER KIDOLOGY'S ULTIMATE TOOLBOX FOR CHILDREN'S MINISTRY:
Kidology's Ultimate Toolbox for Children's Ministry is loaded with practical help and tools to help you build a ministry that will stand the test of time!
"I wrote this book after decades of ministry in churches of all sizes. I wanted to share what I have learned, often the hard way, and share the tools I have collected, the mistakes I have made, and the insights I have gained along the way. I'm so excited to share my toolbox with you!" - Pastor Karl Bastian