Curriculum Resource Guide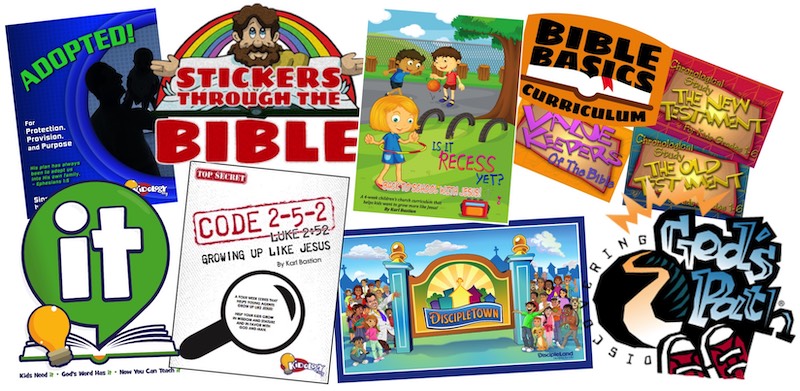 Here you will find titles from our leading curriculum, as well as our most popular vendors.

it Bible Curriculum
it is a brand new Super FUN, Scripturally SOLID Children's Church Curriculum for Creatives like YOU!
it is DIFFERENT - it has everything you WANT in a kids church curriculum minus the fluff and extra work.
it is designed for Elementary: Kindergarten through 5th Grade
it IS FREE for All Access Members!

You can also purchase individual units in the Kidology store.
Learn more about it Bible Curriculum

Stickers Through the Bible Pre-Reader Curriculum
Stickers Through the Bible is a revolutionary new Bible curriculum for non-readers. By placing beautiful stickers into their Bibles they gain a love for God's Word while gaining an understanding of the overall Story of the Bible. They also learn an overview of the Books of the Bible by placing Bible Stickers on a Bible Fortress poster and build a colorful Bible Timeline throughout the year. Packed with creative ideas and parental tools, Stickers Through the Bible is a comprehensive preschool curriculum like you have never seen before.
Please read our complete description of this innovative approach before purchasing.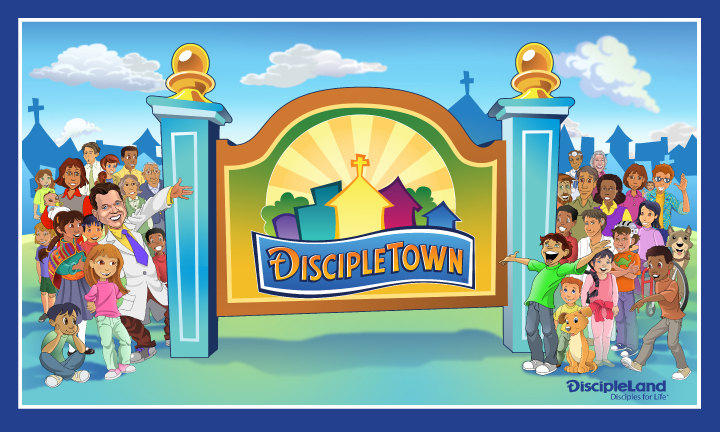 DiscipleTown Curriculum
DiscipleTown is a Kid's Church curriculum developed by Karl Bastian, a veteran children's pastor who has written and led more than 1,000 children's church services in a variety of settings. Whether you lead in a small urban church, a large suburban church, or a mobile church, you need a curriculum that is unique and flexible. In DiscipleTown, you'll find a customizable curriculum that seems like it was written by someone just like you... because it was!

There are 24 units in the DiscipleTowncurriculum, with each unit lasting 4-5 weeks. You can view each unit's description in the Kidology store.

Learn more about DiscipleTown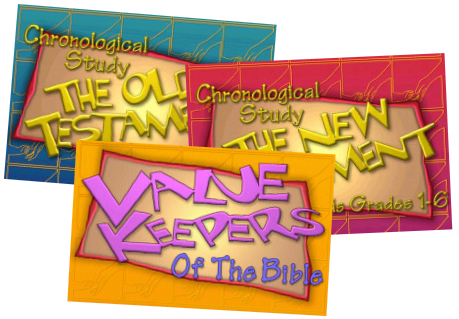 Bible Basics Curriculum
Kidology is excited to offer a complete 3-year children's ministry curriculum: Bible Basics Curriculum Series.

This collection consists of three 1-year programs: Old Testament Chronological Study, New Testament Chronological Study, and Value Keepers of the Bible. This curriculum was written with extensive detail by Susan E. Harper, author of our popular The Lion, the Witch & the Wardrobe Companion Study. You can purchase the curriculum in the Kidology Store and use all the units from this series with grades 1-6.

Learn more about Bible Basics Curriculum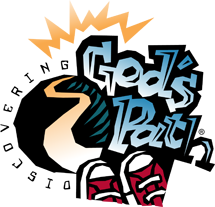 Discovering God's Path Curriculum
Kidology offers Deena Stirling's Discovering God's Path curriculum in the Kidology Store. These easy-to-use, reproducible lessons are ideal for your weekend or midweek programs for kids in grades 2-5.
This visually-appealing curriculum series is executable with the resources you already have, thus saving you both time and money. Spend less time on curriculum planning and more time helping kids experience God in a practical and fun way!
Learn more about Discovering God's Path
Kidology Curriculum
These units were written by Karl Bastian for Kidology.org!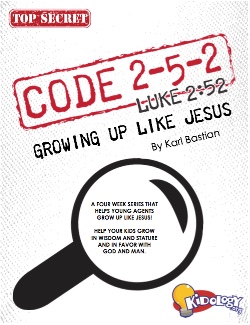 Code 2-5-2 will train your 'agents' to grow in Wisdom, in Stature and in Favor with God and Man. Your young agents will be prepared for a life of covert and overt operations to share Jesus with a lost world!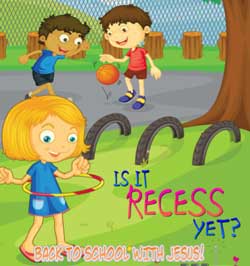 The purpose of Is It Recess Yet? is to help get kids excited about school in the fall and to see it in a new light. Instead of just somewhere they have to go to learn, they will be challenged to see school as a place they can shine for Jesus by being more like Him.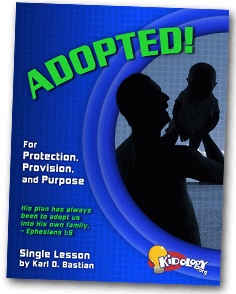 Adopted! is a SINGLE LESSON exploring Bible characters that were adopted, from Moses to Jesus. Kids will learn that adoption offers protection, provides for the needs of a person, and shows that they have a divine purpose.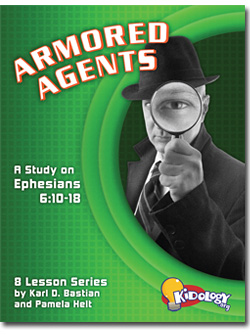 Armored Agents is an 8-week lesson series based on Ephesians 6:10-18. This 100+ page curriculum, authored by Karl Bastian & Pamela Helt, teaches the Armor of God using an immersive undercover spy theme.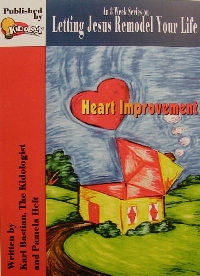 Heart Improvement includes 8 lessons and teaches children that Christianity is not just for Sunday. Jesus wants to be part of all the areas of our life.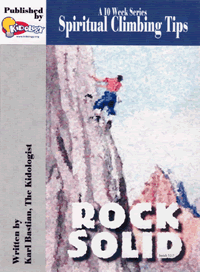 Rock Solid is a 10-lesson series on Spiritual Climbing Tips for going to great heights with God! Designed for kids in 1st-6th grade, this series using rock climbing lingo has also been used at camps and VBS with great success!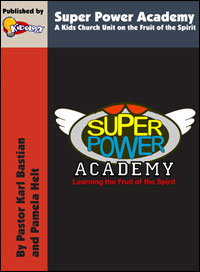 Super Power Academy
is a 10-lesson series that introduces children to the Fruit of the Spirit. They will understand the attributes that Christians should show in their everyday lives.
Other Curriculum Vendors
Check out some of the other vendors that sell curriculum through the Kidology Store.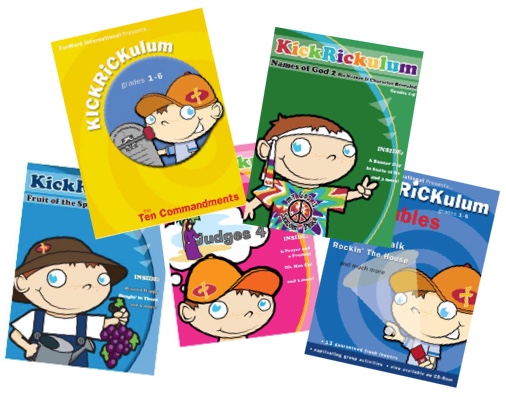 KICKRiCKulum is a creative, fun kid's curriculum that is equally at home in a midweek, Sunday or Sunday evening service. Best of all, this series is affordable, easy to use, quickly adaptable, and ready to lead today's child into the presence of God.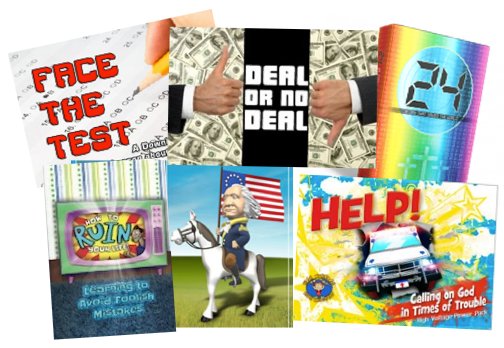 High Voltage Kids Ministry is NOT a "curriculum company". They are REAL LIFE Kids Pastors in a local church who create and produce their own videos, object lessons, graphics, illustrations, skits, and more - then they package and release what they use every Sunday just for YOU. Whatever products you purchase from HVKM have been tested and proven to be 100% effective!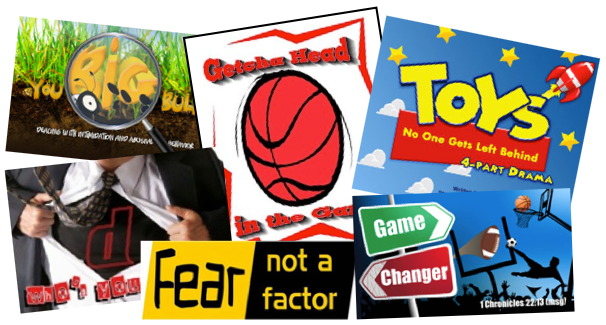 Kids Power Company is the ministry of Steve and Angie Patrick of DayStar Church. They use their gifts and talents to ministry to children each week, and enjoy sharing their curriculum with you!
River's Edge Curriculum is a creative, Bible-based curriculum company, specializing in resources to help connect kids (and their parents) with Jesus. They offer a range of children's church curriculum, VBS, science camps and science object lessons, as well as products to help parents carry these lessons from church into the home.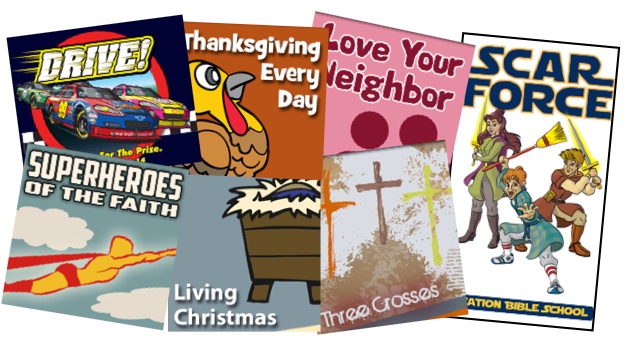 TruthQuest materials are in use by hundreds of churches across the United States and around the world; churches who agree that kids need more in-depth Bible training.
OTHER CURRICULUM PROVIDERS TO CHECK OUT:
Tadpole Tales NextGen4Christ Animated Kids Bible
Childrens Church Stuff Friends and Heroes J12 Preteen Resources
Real Fun Kidmin Science EKG Next Gen 4 Christ
Kidtough National Center for Biblical Parenting Can'd Goods
We offer discounts to All Access Members on many of the products sold in our store. If you're not already a member, you can join today!