To What Standards Do We Hold Volunteers?
FREE Download for All Access Members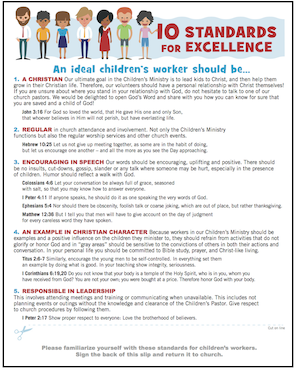 While none of us are perfect, serving and modeling Christ before children is a high calling indeed. Pastor Karl Bastian created a list for his ministry years ago and has used it ever since. He calls it the "10 Standards for Excellence" that are expected of all volunteers to live up to in order to serve in the children's ministry. The bar is high for those who are modeling Christ to our children!
This Kidology classic document has been REVISED and UPDATED so you can provide it to every volunteer in your children's ministry!
Each of the 10 Standards are supported by scripture to help substantiate that these are not just the leadership's expectations, but God's expectations of all believers.
Our job as kids ministry volunteers is not only to instruct kids where to go, to follow rules, and to teach lessons, but also to model the Christian faith in our lives and behavior.
Several versions are provided for FREE for our All Access Members. Not a Kidology All Access Member? Join today with discount code LetMeIn and get 20% off an annual membership.
DOWNLOAD the 10 Standards for Excellence today and take your ministry UP a notch!