Gospel Magic Zone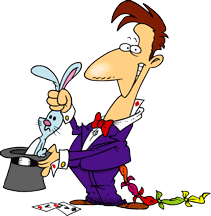 It's no trick teaching kids! But having a trick up your sleeve sure helps!
This zone contains Gospel Magic Tricks, which we like to call "object lessons with a surprise ending!" Obviously, the only 'magic' here are optical illusions! Magic tricks excite and interest kids because it engages their minds and creativity. Have no fear - kids never attribute any 'power' to a magician, they always assume it's 'up their sleeve' or something. It is only smart adults who don't like being fooled who sometimes wonder if there is more to it!
Got a good trick of your own? Don't keep a secret!
‹ Back to Zones
Guest

›
Starter

›
All Access
Level
Title
Topic
Should a Christian Do Magic?

Karl answers the question of "Christian Magic" and posts an article he often shares with others struggling with this creative form of teaching.

Gospel Magic
King of Hearts Card Trick with Video Demonstration

This is a super easy and impressive trick that requires no sleight of hand.

Gospel Magic
Magic Training Part 1 - Presence and Presentation

Part 1 of Karl's Magic Training Series focuses on Presence and Presentation.

Magic Training
Magic Training Part 2 - Patter!

Part 2 of Karl's Magic Training Series teaches about Patter!

Magic Training
Magic Training Part 3 - Props

Part 3 of Karl's Magic Training Series stresses the importance of Props!

Magic Training
Magic Training Part 4 - Planning with Purpose

Part 4 of Karl's Magic Training Series shows you how to plan your show with purpose!

Magic Training
Never Ending Ticket!

A SUPER COOL Gospel Presentation that the kids will love - lots of audience participation!

Gospel Presentation
100 Bible Names Magic Trick

This is an EASY but AMAZING magic trick using 100 Bible names.

Magic Trick
Amazing Easy Prediction Magic Trick!

This is a classic easy magic trick where you can predict a choice that a child makes.

Prophesy or Choices
Awesome Mind Reading Trick

This trick will make it look like you can read kids' minds! However, you can then talk about how only God can really read our minds.

Mind Reading
Christmas Envelope Prediction Trick!

In this fun trick, the leader says they have predicted which envelope the kids will choose. Kids pick a number from 1 to 6, and the leader shows that they will choose Jesus every time!

Prophesy
How to Roll a Coin

Lots of people watch magicians with envy as they roll coins over their fingers with ease... now you can learn the secret from the Kidologist!

Pocket Magic
Karl's 2-Card Monte

Karl demonstrates and teaches how to do a simple but AMAZING magic trick with just TWO playing cards.

Two Card Monte Magic Trick
My Plan vs. God's Plan

A super cool Magic Trick / Object Lesson that illustrates why sometimes God says no to our plans. He has a bigger plan!

Trusting God
Prediction! Illusion

Use this Prediction Illusion to lead kids into a lesson on the prophetic books of the bible.

Prophecy, Magic
The Amazing Magic In-Out Tube Trick!

It is foolish to think that if we allow bad things into our life that good will come out.

ChristianLife
The Magic Coloring Book Bible

Magic Coloring Book Explanation

Bible
You Can't Out-Give God! (Money Magic Trick)

A story and illusion demonstrating generosity.

Generosity or Giving
Yummy Water

This object lesson visually demonstrates the change that happens to a person when they become a Christian - they change from ordinary to something very special!

Gifts of the Spirit
'Gospel' Magic?

Eric Reamer, a professional Christian magician, has studied the origins of witchcraft, Satanism, and many of the cult movements of our time from a Biblical perspective and has been in the full time ministry for over ten years. Here he answers the question, "Isn't magic condemned by the Bible?"

Gospel Magic
The Magic Hank

A fast and easy magic trick anyone can do - make a handkerchief bow down at your very command! That is, when he chooses to obey!

The Kidology Lab
The Penny Game

A fast and easy game for connecting with kids that requires only a handful of pennies to have a bundle of fun!

The Kidology Lab
The Sugar Packet Puzzle

Here is a fun, challenging but entertaining puzzle you can do with kids right at the table in a restaurant. It's so easy it's hard! But the kids will have a fun time as you connect with them through this handy game.

The Kidology Lab
The Vanishing Salt Shaker

Amaze the kids the next time you eat out by making the restaurant's salt shaker pass right through a solid table! No secret props, use only materials at the table. It's a fun way to connect with kids the next time you eat out!

The Kidology Lab
Laflin Gospel Magic: Answer the Call

In this series, Illusionists David and Teesha Laflin will walk you through a new illusion every episode.

Gospel Magic
Laflin Gospel Magic: Answer the Call - Performance Video

In this series, Illusionists David and Teesha Laflin will walk you through a new illusion each episode.

Gospel Magic
Laflin Gospel Magic: Envelope Prediction

In this series, Illusionists David and Teesha Laflin will walk you through a new illusion every episode.

Gospel Magic
Laflin Gospel Magic: Envelope Prediction - Performance Video

In this series, Illusionists David and Teesha Laflin will walk you through a new illusion each episode.

Gospel Magic
Laflin Gospel Magic: How Sweet It Is - Explanation Video

In this series, Illusionists David and Teesha Laflin will walk you through a new illusion each episode.

Gospel Magic
Laflin Gospel Magic: How Sweet It Is - Performance Video

In this series, Illusionists David and Teesha Laflin will walk you through a new illusion each episode.

Gospel Magic
Laflin Gospel Magic: In a Moment - Explanation Video

In this series, Illusionists David and Teesha Laflin will walk you through a new illusion each episode.

Gospel Magic
Laflin Gospel Magic: In a Moment - Performance Video

In this series, Illusionists David and Teesha Laflin will walk you through a new illusion each episode.

Gospel Magic
Laflin Gospel Magic: Magic Paper Bag - Explanation Video

In this series, Illusionists David and Teesha Laflin will walk you through a new illusion each episode.

Gospel Magic
Laflin Gospel Magic: Magic Paper Bag - Performance Video

In this series, Illusionists David and Teesha Laflin will walk you through a new illusion each episode.

Gospel Magic
Laflin Gospel Magic: Messed Up Money - Explanation Video

In this series, Illusionists David and Teesha Laflin will walk you through a new illusion each episode.

Gospel Magic
Laflin Gospel Magic: Messed Up Money - Performance Video

In this series, Illusionists David and Teesha Laflin will walk you through a new illusion each episode.

Gospel Magic
Laflin Gospel Magic: Paper to Money - Explanation Video

In this series, Illusionists David and Teesha Laflin will walk you through a new illusion each episode.

Gospel Magic
Laflin Gospel Magic: Paper to Money - Performance Video

In this series, Illusionists David and Teesha Laflin will walk you through a new illusion each episode.

Gospel Magic
Laflin Gospel Magic: Priceless - Explanation Video

In this series, Illusionists David and Teesha Laflin will walk you through a new illusion each episode.

Gospel Magic
Laflin Gospel Magic: Priceless - Performance Video

In this series, Illusionists David and Teesha Laflin will walk you through a new illusion each episode.

Gospel Magic
Laflin Gospel Magic: Shielded by Faith - Explanation Video

In this series, Illusionists David and Teesha Laflin will walk you through a new illusion each episode.

Gospel Magic
Laflin Gospel Magic: Shielded by Faith - Performance Video

In this series, Illusionists David and Teesha Laflin will walk you through a new illusion each episode.

Gospel Magic
Laflin Gospel Magic: The Lord is Our Healer - Explanation Video

In this series, Illusionists David and Teesha Laflin will walk you through a new illusion each episode.

Gospel Magic
Laflin Gospel Magic: The Lord is Our Healer - Performance Video

In this series, Illusionists David and Teesha Laflin will walk you through a new illusion each episode.

Gospel Magic
Laflin Gospel Magic: The Meaning of Life - Explanation Video

In this series, Illusionists David and Teesha Laflin will walk you through a new illusion each episode.

Gospel Magic
Laflin Gospel Magic: The Meaning of Life - Performance Video

In this series, Illusionists David and Teesha Laflin will walk you through a new illusion each episode.

Gospel Magic
Laflin Gospel Magic: The Right Choice - Explanation Video

In this series, Illusionists David and Teesha Laflin will walk you through a new illusion each episode.

Gospel Magic
Laflin Gospel Magic: The Right Choice - Performance Video

In this series, Illusionists David and Teesha Laflin will walk you through a new illusion each episode.

Gospel Magic
Don't Get Cracked

Here is a Gospel magic trick that teaches the truth that when we trust in God, He will protect us!

God's Protection
Magic Lightbulb

This magic light bulb is special because it works with unseen power. You and I are called to be lights in a dark world.

Evangelism
Showing 1 - 50 of 65 results