Gospel Magic Zone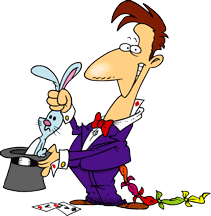 It's no trick teaching kids! But having a trick up your sleeve sure helps!
This zone contains Gospel Magic Tricks, which we like to call "object lessons with a surprise ending!" Obviously, the only 'magic' here are optical illusions! Magic tricks excite and interest kids because it engages their minds and creativity. Have no fear - kids never attribute any 'power' to a magician, they always assume it's 'up their sleeve' or something. It is only smart adults who don't like being fooled who sometimes wonder if there is more to it!
Got a good trick of your own? Don't keep a secret!
‹ Back to Zones
Guest

›
Starter

›
All Access
Level
Title
Topic
100 Bible Names Magic Trick

This is an EASY but AMAZING magic trick using 100 Bible names.

Magic Trick
Amazing Easy Prediction Magic Trick!

This is a classic easy magic trick where you can predict a choice that a child makes.

Prophesy or Choices
Awesome Mind Reading Trick

This trick will make it look like you can read kids' minds! However, you can then talk about how only God can really read our minds.

Mind Reading
How to Roll a Coin on Your Hand

Lots of people watch magicians with envy as they roll coins over their fingers with ease... now you can learn the secret from the Kidologist!

Pocket Magic
My Plan vs. God's Plan

A super cool Magic Trick / Object Lesson that illustrates why sometimes God says no to our plans. He has a bigger plan!

Trusting God
Never Ending Ticket!

A SUPER COOL Gospel Presentation that the kids will love - lots of audience participation!

Gospel Presentation
Prediction!

Teach kids about the prophectic books of the bible and lead into it using this illusion.

Prophecy, Magic
The Amazing Magic In-Out Tube Trick!

It is foolish to think that if we allow bad things into our life that good will come out.

ChristianLife
The Magic Coloring Book Bible

Magic Coloring Book Explanation

Bible
You Can't Out-Give God! (Money Magic Trick)

An AMAZING magic trick to illustrate how you can't out-give God.

Generosity or Giving
Yummy Water

This object lesson visually demonstrates the change that happens to a person when they become a Christian - they change from ordinary to something very special!

Gifts of the Spirit
'Gospel' Magic?

Eric Reamer, a professional Christian magician, has studied the origins of witchcraft, Satanism, and many of the cult movements of our time from a Biblical perspective and has been in the full time ministry for over ten years. Here he answers the question, "Isn't magic condemned by the Bible?"

Gospel Magic
Should a Christian Do Magic or Conjuring?

Doesn't the Bible forbid magic, fortune-telling and ventriloquism? Is it right for a Christian to be involved in sleight of hand and illusion--aren't these instruments dishonest and deceptive?

Gospel Magic
The Magic Hank

A fast and easy magic trick anyone can do - make a handkerchief bow down at your very command! That is, when he chooses to obey!

The Kidology Lab
The Penny Game

A fast and easy game for connecting with kids that requires only a handful of pennies to have a bundle of fun!

The Kidology Lab
The Sugar Packet Puzzle

Here is a fun, challenging but entertaining puzzle you can do with kids right at the table in a restaurant. It's so easy it's hard! But the kids will have a fun time as you connect with them through this handy game.

The Kidology Lab
The Vanishing Salt Shaker

Amaze the kids the next time you eat out by making the restaurant's salt shaker pass right through a solid table! No secret props, use only materials at the table. It's a fun way to connect with kids the next time you eat out!

The Kidology Lab
Breaking the Barriers

Each one of us faces barriers in our lives that seem impossible to break through. When we face these barriers it is important to remember that with Jesus there is always a way.

Breaking the Barriers!
Don't Get Cracked

Here is a Gospel magic trick that teaches the truth that when we trust in God, He will protect us!

God's Protection
Magic Lightbulb

This magic light bulb is special because it works with unseen power. You and I are called to be lights in a dark world.

Evangelism
Paper Gospel Illusion for Easter

This is a great Gospel Illusion and Object Lesson for Easter to show how Jesus was killed and rose three days later! It uses a paper and pen to visually demonstrate this important truth.

Easter Object Lesson
Pre-Sliced Banana!

Exciting magic trick where you can peel a banana showing that it is pre-sliced.

Magic, Illusions,
Sample the Premier Issue of Grand Magic Magazine!

Download the Premier issue of GRAND MAGIC MAGAZINE! The monthly magic magazine from Duane Laflin. It's name reflects the purpose of promoting magic as a positive and uplifting entertainment experience.

Gospel Magic Magazine
The Reason For The Season

There are many things that may take our focus off of what is most important at Christmas time, but there is only one true reason for the season. The reason to celebrate, is Jesus!

Children's Ministry, Gospel Magic
Heart-Rope Trick

A rope is hung from the center of a cutout wooden heart. By a couple of simple moves the rope is wound around the heart sides. When the heart is suspended by the rope and draped with a red scarf, it is easily released. The scarf is removed to show the heart freely hanging on the suspended rope.

Salvation
You Can't Keep a Good Man Down

This is patter you can use with 20th Century Silks and a Change Bag as an object lesson in talking about Jesus' ressurection. This is ONLY the patter. You'll have to buy the tricks to know the secret. This is meant to be done on Easter, but you can adapt it to fit any time of year.

Easter/Gospel Magic
A Theology for Using Gospel Magic

Is there a Biblical basis for using magic tricks in evangelism? Yes! If we understand that magic tricks are a kind of visual aid. More conventional visual aids in evangelism tends to include story telling, drama, pictures and objects. Alongside these latter visual aids I would include magic tricks as being a legitimate means of illustration.

Magic
Broken and Restored

In our lives other people will sometimes hurt us with the words they say, but Jesus can pick up the pieces and heal our brokenness.

The Lord is Our Healer
Broken Heart Frame

Teacher displays a picture frame containing a picture of a cracked and broken red heart. Each broken piece of heart is removed. The frame is then covered with a large handkerchief. The pieced of broken heart are caused to vanish. The handkerchief is whisked away to reveal a completely restored heart.

Salvation or Healing a Broken Heart
Cast Your Cares On Him

A simple newspaper trick that you make. Show various examples of bad news and things that we might worry about. They go into a newspaper - only to vanish and be replaced by a messsage.

Cast Your Cares on Him
Cut and Restrawed

We have all been separated from God because of our sin. Jesus alone was perfect, died for our sins, and rose from the grave. If we accept Him we can be restored to a relationship with God.

A Lesson about Forgiveness
Fruitful Life

A Lesson to use in your ministry about the fruits of the Spirit

Fruits of the Spirit
God Already Knows

Three different audience members help to create a three digit number, which is then created into a larger number that matches a guess that you had written down beforehand.

God is All Knowing
Gospel 5 Card Monte with 6 Cards

After showing a number of cards that are clearly not the way to heaven - the cards are mixed and a volunteer is asked to eliminate them one at a time. The last card in her hand is shown to be a picture of Jesus.

Jesus Is the Only Way
Gospel Magic Worksheet

A simple worksheet that I use to help put together Gospel magic routines and object lessons.

Studying Gospel Magic
How Sweet It Is!

The greatest treasure in life is only found when we choose to live our life for Jesus Christ.

The Greatest Treasure in Life is Jesus
In a Moment

Our life on earth can end quickly- will you be ready for that moment?

Eternity
Magical Effect Categories

Here is a resource that I have been using for years when i need to figure out if I can illustrate a truth with an illusion (aka - magic trick or gospel magic). I hope these help you as you research your topic.

Studying Gospel Magic
Messed Up Money

We all make mistakes and sometimes get a little turned around in life. When life gets confusing we can turn to God's word as a light to guide us.

God Word is a Light to Guide Us
New Life in Christ

This idea is from our Awana time lessons. It kept the attention of the clubbers and proved to be a fantastic example for them to relate to based on 2 Corinthians 5:17- Therefore, if anyone is in Christ, he is a new creation; the old has gone, the new has come!

New Beginning
One and Only

Jesus is the only way to get to Heaven. When you accept Him you can know for sure you will spend eternity with Him!

God's Love
Rainbow Rope Circle

God has gifted each of us with different talents. This does not mean that some people are better than others. God loves us all the same and desires for us to come together and share our gifts.

Spiritual Gifts
Should a Christian Do Magic?

Karl answers the question of "Christian Magic" and posts an article he often shares with others struggling with this creative form of teaching.

Gospel Magic
The Bible Tear - Flash (or instant) Restoration

A picture of a Bible is shown and torn up. Almost immediately, the pieces are restored back together.

God's Word Lasts Foreve
The Gospel by Colors

These methods have been very successful in sharing the gospel message with the children. Many children have come to know Jesus.

Salvation
The Right Choice

We do not always know the end result of the choices we make, but when we choose to live for Jesus, we can know we will experience His joy here on earth and eternity with Him in Heaven.

Making Choices
The Unseen!

Our focus and greatest concern should be on what matters for eternity. There are times when we want to reinforce that everything we do is just an illusion.

Eternity
Three in One Ropes

A simple rope trick in which you show one rope, make it look like you've cut it into three pieces... and then put it back together again to show one rope. A great way to explain the Trinity.

The Trinity
Trash to Money

There are times in each of our lives in which we feel very ordinary.. But, the amazing thing is that God has given us a new hope. In Isaiah 43, He says not to dwell on the past but instead be ready for new things. God can make an amazing change in our life and help us see extraordinary value in what was once thought to be ordinary.

God Can Take Ordinary to Extraordinary!
What does the Future Hold?

The wonderful Children's Church Object Lesson/Illusion will show your kids that God has a plan for their life. A plan to give them hope, and a future!

God has Plans for YOU!
Showing 1 - 50 of 50 results