Articles Zone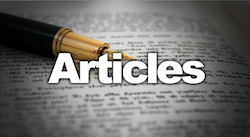 Practical and insightful articles about Children's Ministry.
Looking for some expert advice? This Zone is a treasury of Children's Ministry expertise from the Kidologist and other veterans in children's ministry.
Some of the most popular articles are:
Getting into the Home | Mailbox Ministry | Discipline that Disciples | Entering the World of Kids | First Steps for a New Children's Pastor | The Great KID Mission |
Looking for something you didn't find here? Let us know!
‹ Back to Zones
Guest

›
Starter

›
All Access
Level
Title
Topic
10 Questions to Get to Know Your Kids Better

It's so easy to get caught up in all the details of pulling off a weekend service and totally miss out on the opportunity to get to know the children in your ministry.

Discipleship
5 Ways to Serve Your Children with Special Needs

Five ways you can better serve Special Needs children in your ministry.

Special Needs
Are Our Expectations of Children Appropriate for their Maturity Level?

In this essay I question whether we typically have appropriate age-level expectations for children whom we influence in the church.

Teaching
Childlike vs. Childish

The Apostle Paul said when he became a man he put away childish things, but then Jesus said we are to come to Him as children. How do we connect with children, relationally, while maintaining the respect of adults? Pastor Karl - a self-identified "big kid" explains how to keep that tricky balance.

Becoming a Relational Leader to Kids without Losin
Communicating When No One Reads

Ideas for communication with leaders and volunteers

Communication
Creating an Anti-Bullying Program: The Components

By including bullying prevention, your organization will foster an environment that encourages transparency, prioritizes communication, and empowers kids and youth to respect and support each other.

Bullying
Creating an Anti-Bullying Program: The Framework

By including bullying prevention, your organization will foster an environment that encourages transparency, prioritizes communication, and empowers kids and youth to respect and support each other.

Bullying
Creating an Anti-Bullying Program: The Implementation

By including bullying prevention, your organization will foster an environment that encourages transparency, prioritizes communication, and empowers kids and youth to respect and support each other.

Bullying
Doing Theology With Children: Grace

What follows is a conversation between me and a group of children in January, 2008. This is one way that I engage them in theological topics. In this example, we discuss grace. This article originally appeared on my personal blog at glenwoods.wordpress.com.

Discussing grace with children
Formational Children's Ministry

A review of Ivy Beckwith's book, Formational Children's Ministry. My review is generally favorable, although I do challenge some of the assumptions set forth by the author.

Book Review
How to Get Your Message to Parents Every Time

6 great communication tatics that will help get your message to every parent

Communication, Email, Parents,
Impress Your Boss by Planning

Don't wait until you're asked to show your pastor your ministry plan!

Planning, Administration
Kid's Music CAN Be Cool AND Rich!

Do you need some worship videos for children that have both biblical depth and content? Karl Bastian, a.k.a. the Kidologist, has a recommendation for you and your children's ministry!

Worship videos, Kids worship
Moments in Worship

What is worship? How do we worship on Sunday mornings? Should we show outward expressions to what we feel?

Worship
Offering the Gospel to Children

This review is considers the work of an Anglican writer, mining insights which might be helpful in other theological contexts, particularly in the evangelical setting.

Book Review
Out of the Basement: A Holistic Approach to Children's Ministry

A book review of Out of the Basement: A Holistic Approach to Children's Ministry by Diane C. Olson.

Book Review
Overcoming Spiritual Apathy in Parents at Home

Last year I began a new initiative in my church which developed into a form of parent coaching. It is very loosely based on Karl Bastian's VIP strategy, which can be found in the Leadership Lab 4, Partnering with Parents. This post suggests one possible scenario which can lead a family toward participating in parent coaching. Although it is fictitious and the names are not meant to represent any real person, I believe it is a plausible situation. In future posts I will explore in more detail the possible opportunities of parent coaching, as well as potential pitfalls.

Parent Coaching
Reflections of a Follow-Upper

Follow-up ministry is so important for children's ministry. Whether it's camp ministry or church ministry, kids need to be discipled year round. Kendra shares her story about her own experience at camp and how follow-up plays a key role in her life now.

Follow-up Ministry
Safety Tips for Back-to-School Season

Ensure the safety of your kids as they return to school.

Child Safety, Back to School
Simplicity: Fertile Soil for Trusting Relationships and Teachable Moments

An essay highlighting the value of simplicity and depth of relationship in producing teachable moments.

Classroom Teaching
the danger of formulaic ministry solutions

This article warns about the dangers of relying more on a ministry formula for family ministry, than upon God's grace to change lives.

Family Ministry
The Day the King Unlocked the Gates

Help kids understand the 'problem of evil'

Free eBook for Kids!
The Great KID Mission

The world of kids is constantly changing and so it takes constant effort to keep current. Learn how to minister from within the context of the culture... and see your results drastically improve!

Relational Ministry
The Kidologist's Salvation Testimony

Learn how a Children's Pastor who calls himself "The Kidologist" came to Christ as a four year old, received his call to the ministry as an elementary age boy, and headed into children's ministry before founding Kidology.org.

Testimony
The Purpose of Music

Why do we need music? We use music to express our worship and love to God, our fears, dreams, hopes, and even our testimony to others.

Worship
Using the Wordless Book to Share the Gospel

The WORDLESS BOOK is one of the most effective ways to present the Gospel to children! WORDLESS BOOKS can be purchased, but are very simple to make yourself.

Evangelism
Who Are These Kids?

Do you know how to connect to today's device- and media-saturated kids?

Connecting with Today's Kids
Why Won't We Let Boys Be Boys?

An case for allowing boys to be boys in a Christ-honoring way, rather than a shadow of what God intended for them to be.

Boys
Will Our Children Have Faith?

In his seminal book "Will Our Children Have Faith" John H. Westerhoff, III grapples with the state of Christian Education. Originally published in 1976 by Seabury Press and later revised, expanded and republished in 2000 by Morehouse Publishing, Westerhoff's discourse deserves wider consideration from church leaders, children's ministry leaders and educational thinkers beyond the scope of mainline denominations. While many evangelicals would quibble with some of his theological assumptions–he is Anglican, having been originally Church of Christ–they would be wise to listen to the heart of a man who has walked out the struggle of shifting educational tides, especially in the church context. He is a distinguished scholar to be sure. But more importantly he is a thoughtful practitioner of ministry.

Book Review
On the Passing of Steve Jobs

Karl Bastian, founder of Kidology.org, reflects on the passing of Apple founder and CEO, Steve Jobs, October 2011.

Leadership Tribute
Take Your Life Back from the Church

Don't let the church suck you dry - that isn't God's Will for those in ministry. When the church is killing your joy, you are doing more than God is asking of you and it is time for drastic action. Now. Stop making excuses.

Leadership & Life & Priorities
The Kidologist's Top Ten in CM

What the Kidologist, Karl Bastian, suggests as the "Top Ten" books, websites, and events for children's ministry leaders.

Top Books, Websites and Events in CM
Reinventing The Sunday School in Childless Churches

How to launch a Children's Ministry in a church with little or no children.

Small Church Ministry
Your Salvation Story

This is a guide on how to prepare a written salvation testimony with the Kidologist's as a sample. Written for kids, but good for all ages. See the PDF for printing and the sample.

How To Write a Testimony
Seven Steps To Becoming A Successful Children's Minister

Being the leader of the children's ministry team in your church is an important calling. Children's ministry is now considered one of the major reasons why people choose a church. Take a moment to consider these "words of wisdom."

Leadership
The Calling

The Calling I am a minister. I minister to the largest mission field in the world. I minister to children. My calling is sure. My challenge is big. My vision is clear. My desire is strong. My influence is eternal....

Leadership
The Children's Pastor Who Changed the World

A great story about a great Children's Pastor.

Perseverance
The Church of Today

Kids are not the church of tomorrow, they are the church of today as demonstrated by these examples in the Bible!

Children's Ministry
The ORIGINAL Wordless Book

It may surprise you that the original "wordless book" was written for adults! It was a sermon by Spurgeon in 1866, later published in 1911, and had only three colors! DL Moody added the gold color in 1875 and Child Evangelism Fellowship popularized the modern five color version by adding green.

Gospel
The Seven Greatest Questions Facing Children's Ministry

Defining what Children's Ministry is and what it does.

Leadership
3 Qualities of Great Leaders

What are the qualities that make a great leader?

Leadership Volunteers
A Ministry Lesson from Darth Vader

In the busyness of life and ministry, don't forget your Primary Objectives, because one thing is for sure: your Enemy won't.

Priorities
A Philosophy of Children's Ministry

Karl presents his Biblical Philosophy of Children's Ministry, why you should have one, and a Word doc version so you can modify it for your own ministry use.

Philosophy of Ministry
A Shift in Focus

A look at our Basic Needs, the Fundamental Question behind them, and the Fear that drives them.

Spiritual Growth
Are We Bribing Kids Into the Kingdom?

A FRESH ANSWER TO THE ISSUE OF GIVING CANDY AND PRIZES TO KIDS AT CHURCH. Do I give candy and prizes to the kids in my ministry? Most certainly, YES! Am I bribing them? Certainly not! For the sake of children everywhere, allow me to present a defense for this practice, before you take the kids' candy away! Someone needs to stand up and protect the little plastic toys from extinction!

Prize Incentives
Backyard Bible Splash!

This is a fun event your church can host in the summer.

Water Sports, Summer
Being a HELPful Volunteer!

How can a volunteer truly H.E.L.P. their leader?

Training Volunteers
Beyond the Classroom

If you minister to kids you have a powerful opportunity to impact lives in dramatic ways, and the small amount of effort it takes may surprise you.

Relational Ministry
Children's Pastor's Language Guide

It has come to our attention that Children's Pastors see the world a little differently than most others. This handy reference guide will help bridge the language gap that so often divides them from the rest of society. We recommend this guide be kept for ready reference at all staff and board meetings so as to help understand your children's pastor and his/her perspective.

Humor
Children's Perceptions of God

This was a seminary research project on the subject using essays written by grade school children on the topic: "Who is God, and what is He like?"

Education
Showing 1 - 50 of 1202 results