Guests Should Be Celebrated!
Introducing Balloon Feet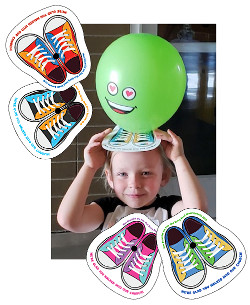 I want our guests to feel more than welcome... I want them to feel celebrated! We put a smilie sticker on them so that everyone knows to greet them and treat them special, but we needed something more. I've tried many things, but THIS has been the biggest hit yet!
INTRODUCING Balloon Feet! These colorful balloon feet, customizable with your own church logo, let your guests know you are glad they walked into your church this Sunday! You can even add additional church information to the sole of the shoe.
FREE for Kidology All Access Members, or super affordable in our store - download all four color patterns today as well as a grey scale version for those who don't have a color printer - just print on colored paper!
This has been a HIT at my church since we introduced it a few weeks ago. I know your kids are going to love it too!