Making our Faith EXCITING for Preteens

Order of the Ancient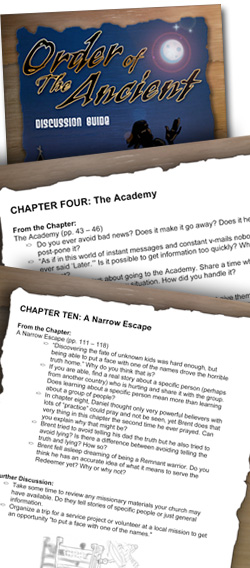 Can the Christian Life be as exciting as Star Wars? Or Harry Potter? Or the Avengers? Thousands of preteen kids have discovered just how exciting the Christian Life can be by reading the action-packed novel, The Order of the Ancient.
"Seek the Sovereign and Prepare for Adventure," is the theme of this original tale of a young boys pursuit of Truth.
We don't need Magic or the Force to have a life filled with Adventure! Introduce your kids to The Order of the Ancient and they'll be asking deep questions about the Bible and their Faith as they discover the super natural power of the spiritual disciplines. It's a real power every Christian can tap into. This faith story introduces its readers to theological concepts as they learn about The Sovereign, The Counselor, The Redeemer and the Book of Books. It's an exciting story, but it's also an invitation to live a life of Adventure by seeking the Sovereign God.
There is a Discussion Guide available as well for groups to learn more about the Bible together as they go on this epic adventure discovering an Ancient Truth that is still alive and active today.
Learn more at kidology.org/oota