Don't Miss Your FREE Alan Root Preteen Downloads!
Included in this month's Booster Pack!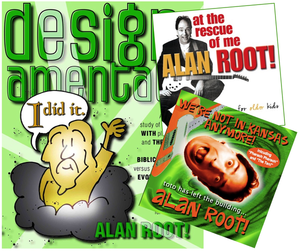 This month only, enjoy $30+ in free downloads from AlanRoot.com!
My friend Alan Root, has been a pioneer in music and preteen ministry for decades. Known as a musicianary, Alan has created some of the most creative and original resources for reaching "tweens."
Along with your Booster Pack this month, you will get TWO complete Music CD Downloads and one of his wacky discipleship Bible Studies.
Alan Root's Designamentals Workbook and Study Guide is a fascinating adventure into big arm-waving ideas like the ultimate meaning of life and the universe, along with why God gets to be God... a defense of the Biblical account of Creation, and a challenge to the sloppy thinking of evolution.
All these downloads are completely FREE…No strings attached. You'll receive this $30+ value at no additional cost!
Jump on over to Kidology.org/booster03 to learn more!
Also, don't miss "Alan's Boosterfication Sale"! Save 30% on Alan Root's download products now through the end of March when you use coupon code ROOTLOOT!