Inspire kids to become Agents for God to change the world!

Agents of Acts is an 8-week series that studies the Book of Acts by exploring the lives of those who acted as God's "Agents" while spreading the Gospel and increasing the followers of Jesus. Your kids, too, can be Agents for God!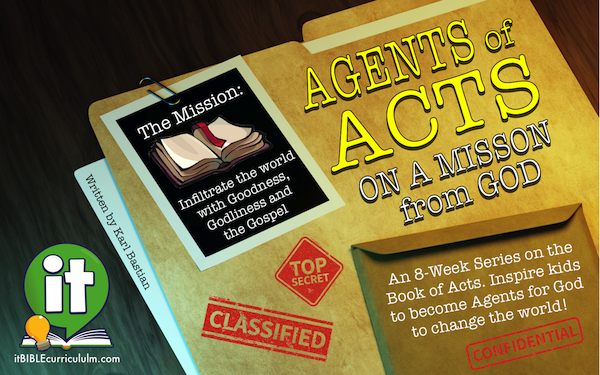 Agents of Acts is a spy-themed series that challenges kids to become followers of Agent 01, Jesus, as they go on missions for the G.O.D. (The Global Operations Director) to accomplish the Mission of Infiltrating the world with Goodness, Godliness and the Gospel.
Your kids will enjoy secret codes, puzzles, missions, and more, all while being challenged to make a difference in their world as Agents for God!
There are OVER 100 DOWNLOADS - videos, handouts, game files, screen images, posters, customizable graphics, and more! We give you the tools you need to be AMAZING!
Download a complete lesson sample!