Preschool Worship Can Be More Than Just Singing Songs!
First Steps in Worship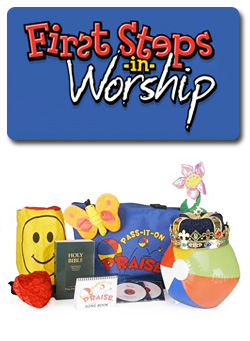 Preschool Ministry is where children get their first impressions of God and His love for them. It should be more than just poppin' in a CD or video and singing along. We have the incredible privledge of giving children their FIRST IMPRESSION of God! Worship should be interactive, fun and educational. That is why I can't recommend highly enough that you check out First Steps in Worship.
More that just fun music, there are interactive tools to help your little ones enjoy worship and engage with the worship. That's that First Steps in Worship is all about! For your three and four year olds, check out Wiggle into Worship and for your four's and five's check out Pass It On Praise!
A one time investment in your preschool ministry will have them wiggling and worshiping and learning how to engage in praise for years to come! You will be amazed at the worship concepts your little worshipers will learn! Take your first step by checking it out today!