New from it Bible Curriculum: MIGHTY KIDS 8-Week Series!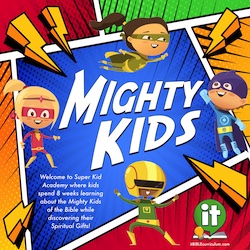 Your Kids Will Love Discovering their Spiritual Gifts while Getting to Know the Mighty Kids of the Bible!
In MIGHTY KIDS OF THE BIBLE, kids learn about the Mighty Kids of the Bible while discovering their Spiritual Gifts!
Theme Passage: For this reason I remind you to fan into flame the gift of God, which is in you… For the Spirit God gave us does not make us timid, but gives us power, love and self-discipline.
2 Timothy 1:6-7
There are HUNDREDS OF DOWNLOADS - videos, handouts, game files, screen images, customizable graphics, and more! We give you the tools you need to be AMAZING!