it BIBLE Lesson Schedule
Here is the recommended schedule for it BIBLE Curricululm. Of course, you can teach the lessons in any order, at any time you'd like, but this schedule is designed to work within the holiday dates.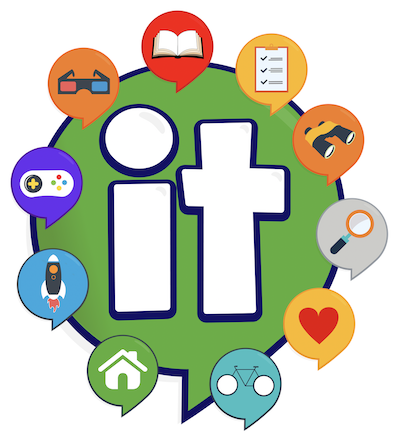 SUPER SUNDAY - Jan. 3rd, 2021

January 3rd - SUPER SUNDAY - Bible-O-Rama! (A Stand Alone Lesson)
UNIT 1 - 2021
January Lessons:
January 10th - Lesson 1: A Book Written by God!
The Bible is like no other book—because the Bible was written by God!
January 17th - Lesson 2: A Book Like No Other
Reading the Bible can change your life!
January 24th - Lesson 3: A Life-Changing Book (Download Sample Lesson)
The Bible has Power to Change Your Life!
January 31st - Lesson 4: A Guidebook for Life
Obeying the Bible Leads to Adventure
February Lessons:

February 7th - Lesson 5: God Wants to Meet with You!
Meeting with God is the most important part of your day!
February 14th - Lesson 6: God is with You All the Time!
God is with you throughout your day!
February 21st - Lesson 7: God's Word has a Word for You!
Gods Word will provide just what you need just when you need it.
February 28th - Lesson 8: God's Word Works Best When Followed
The Bible only works if we live out what we learn
SUPER SUNDAY - March 7th, 2021

EASTER SERIES

UNDEFEATED! Jesus, Ultimate Warrior
A 4-week ninja themed series where kids will discover four amazing times that Jesus conquered His foes, ultimately defeating death from the Cross to the Empty Tomb
COMING SOON! Lessons from March 14th to April 4th
Available for download early January
March Lessons:
March 14th - Lesson 1: Jesus vs. The Tempter
God's Word is our defense against temptation.
March 21st - Lesson 2: Jesus vs. The Mob
Everyone must decide which side they are on.
March 28th - Lesson 3: Jesus vs. The Cross
Jesus defeated sin so I know we have victory over it.
April 4th - EASTER SUNDAY - Lesson 4: Jesus vs. The Tomb
Jesus conquered death so I know He can save me.
UNIT 2 - 2021

Agents of Acts - On a Mission from God!

A Secret Agent themed 8-week series that introduces kids to the Agents of Acts... the Book of Acts, that is! The Church is off to an exciting start with the Great Commission, gift of the Holy Spirit, and the adventures of Peter, John, Philip, Stephen and Paul!
COMING SOON! Lessons from April 11th to May 30th
Available for download early February
April Lessons:
April 11th - Lesson 1: The Great Commission
God wants YOU to tell the world about Him!

April 18th - Lesson 2: The Holy Spirit is Given
God's Spirit is in you to help you live for Him!

April 25th - Lesson 3: Peter's First Miracle
God wants to do amazing things through you!
May Lessons:
May 2nd - Lesson 4: Peter and John in Prison
We must obey God rather than people!
May 9th - Lesson 5: Agent Philip
The Good News is found in God's Word!

May 16th - Lesson 6: Agent Stephen
The Good News is worth everything!

May 23rd - Lesson 7: Agent Paul
The Good News can transform anyone

May 30th - Lesson 8: Agent Peter
God's got your back when you are serving Him!
UNIT 3 - 2021

Summer Bible Sports! Bible Champions!
Kids will learn about some of the greatest Champions in the Bible and what made them winners in God's eyes!
COMING SOON! Lessons from June 6th to July 25th
Available for download early April
UNIT 4 - 2021

Big Screen Adventure! Oldies But Goodies!
Kids will enjoy creating some old fashioned black and white movies while learning about some of the class Bible stories, but with a new twist!
COMING SOON! Lessons from August 8th to Sept. 26th
Available for download early June
UNIT 5 - 2021

Time Travel Adventure! Animals of the Bible!
Kids will love learning about some Bible Stories where animals played a key role in God's Story.
COMING SOON! Lessons from October 3rd to November 21st
Available for download early August
SUPER SUNDAY!

November 28th - SUPER SUNDAY - A Feast of Gratitude! (A Stand Alone Lesson)
COMING SOON! Lesson for November 28th
Available for download early September
CHRISTMAS SERIES

The Manger Files
Your kids will investigate the lesser known characters of Christmas!
COMING SOON! Lessons from December 5th to 26th
Available for download early October