it BIBLE Lesson Schedule - Year 1
Here is the recommended Year 1 schedule for it BIBLE Curricululm. Of course, you can teach the lessons in any order, at any time you'd like, but this schedule is designed to work within the holiday dates.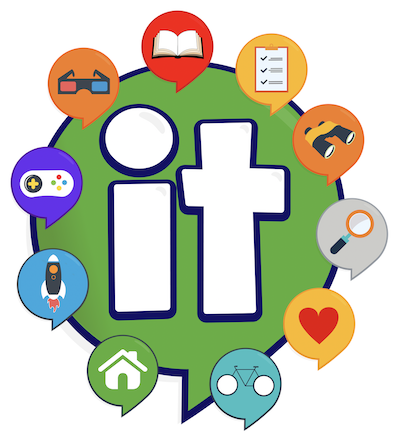 SUPER SUNDAY - Jan. 3rd, 2021

January 3rd - SUPER SUNDAY - Bible-O-Rama! (A Stand Alone Lesson)
An 8-week archeology themed series that covers an introduction to the Bible - what it is, where it came from, its structure, and how to study it - followed by an in-depth look at how to have a Daily Quiet Time with God.
January Lessons:
January 10th - Lesson 1: A Book Written by God!
The Bible is like no other book—because the Bible was written by God!
January 17th - Lesson 2: A Book Like No Other
Reading the Bible can change your life!
January 24th - Lesson 3: A Life-Changing Book (Download Sample Lesson)
The Bible has Power to Change Your Life!
January 31st - Lesson 4: A Guidebook for Life
Obeying the Bible Leads to Adventure
February Lessons:

February 7th - Lesson 5: God Wants to Meet with You!
Meeting with God is the most important part of your day!
February 14th - Lesson 6: God is with You All the Time!
God is with you throughout your day!
February 21st - Lesson 7: God's Word has a Word for You!
Gods Word will provide just what you need just when you need it.
February 28th - Lesson 8: God's Word Works Best When Followed
The Bible only works if we live out what we learn
SUPER SUNDAY - March 7th, 2021

A 4-week ninja themed series where kids will discover four amazing times that Jesus conquered His foes, ultimately defeating death from the Cross to the Empty Tomb
March/April Lessons:
March 14th - Lesson 1: Jesus vs. The Tempter
God's Word is our defense against temptation.
March 21st - Lesson 2: Jesus vs. The Mob
Everyone must decide which side they are on.
March 28th - Lesson 3: Jesus vs. The Cross
Jesus defeated sin so I know we have victory over it.
April 4th - EASTER SUNDAY - Lesson 4: Jesus vs. The Tomb
Jesus conquered death so I know He can save me.
An 8-week secret agent themed series that introduces kids to the Agents of Acts... the Book of Acts, that is! The Church is off to an exciting start with the Great Commission, gift of the Holy Spirit, and the adventures of Peter, John, Philip, Stephen and Paul!
April Lessons:
April 11th - Lesson 1: Agent Luke
God wants YOU to tell the world about Him!

April 18th - Lesson 2: Agent Bartholomew
God's Spirit is in you to help you live for Him!

April 25th - Lesson 3: Agent Peter
God wants to do amazing things through you!
May Lessons:
May 2nd - Lesson 4: Agent John
We must obey God rather than people!
May 9th - Lesson 5: Agent Philip
The Good News is found in God's Word!

May 16th - Lesson 6: Agent Stephen
The Good News is worth everything!

May 23rd - Lesson 7: Agent Paul
The Good News can transform anyone

May 30th - Lesson 8: Agent Timothy
You are never too young to make a difference in the world!
An 8-week video game themed series where kids will learn about some of the greatest Champions in the Bible and the Power Ups that made them winners in God's eyes!
June Lessons:
June 6th - Lesson 1: Giant Slayer (David) (sample lesson)
We Defend What We Love/em>
June 13th - Lesson 2 Water Walker (Peter)
Faith Makes the Impossible Possible!
June 20th - Lesson 3: Lion's Lair (Daniel)
God Will Never Let You Down
June 27th - Lesson 4: Jungle Cruise (Noah)
What's Right is not Always Popular,
and What's Popular is not Always Right
July Lessons:

July 4th - Lesson 5: Army of One (Samson)
Inner Strength is the Strongest of All
July 11th - Lesson 6: Ultimate Match (Jacob)
God's Way is Always the Best Way
July 18th - Lesson 7: King's Challenge (Esther)
You Are Right Where God Needs You
July 25th - Lesson 8: Save the World (Jesus)
Jesus Won So You Don't Have to Lose
SUPER SUNDAY - August 1st, 2021
Kids will enjoy exploring the Book of Genesis while creating movies on stage and learning 8 Attributes of God!
August Lessons:
August 8th - Lesson 1: The Real Big Bang (Creation)
 (sample lesson)
God is Infinite - and worthy of LOVE
August 15th - Lesson 2: The Big Fall (Selfishness)

God is Immortal - and worthy of OBEDIENCE
August 22nd - Lesson 3: The Big Crime (Jealousy)
God is Immutable - and worthy of HONOR
August 29th - Lesson 4: The Big Tower (Pride)

God is Invisible - and worthy of WORSHIP
September Lessons:

September 5th - Lesson 5: The Big Promise (Abraham's Covenant)
God is Omnipresent - and worthy of FOLLOWING
September 12th - Lesson 6: The Big Test (Abraham's Test)

God is Omnipotent - and worthy of TRUST
September 19th - Lesson 7: The Big Swindle (Jacob Cheats Esau)
God is Omniscient - and worthy of FAITH

September 26th - Lesson 8: The Big Showdown (Jacob and Esau Reconcile)

God is Holy - and why I need a Savior
Kids will love hearing stories from the Bible where animals played a key role in God's Story.
October Lessons:
October 3rd - Lesson 1: The Snake on a Pole - FAITH
God will save us if we put our Faith in Him!
October 10th - Lesson 2: The Talking Donkey - GOODNESS

God expects us to choose good over evil
October 17th - Lesson 3: The Beast-Man - KNOWLEDGE
Wisdom is DOING what we KNOW we should do
October 24th - Lesson 4: The Food-Delivering Ravens - SELF-CONTROL
Where God leads, He provides
October 31st - Lesson 5: The Lost Sheep - PERSEVERANCE
God Will Never Give Up on You!
November Lessons:

November 7th - Lesson 6: The Descending Dove - GODLINESS

Jesus is God's Answer to Man's Big Questions
November 14th - Lesson 7: The Coin-Eating Fish - MUTUAL AFFECTION

You are never without options with Jesus
November 21th - Lesson 8: The Flying Horse - LOVE

Jesus is coming again... are you ready?
SUPER SUNDAY!

November 28th - SUPER SUNDAY - A Feast of Gratitude!
(A Stand Alone Lesson)

COMING SOON!
CHRISTMAS SERIES
Hark, from the Herald!
Investigating the True Meaning of Christmas
A 4-Week Series about the Best News Ever Reported!
Hark, a Bible times reporter and founder of the newspaper, The Herald, interviews key members of the Christmas Story in order to investigate the Biggest Breaking News of all time: God Comes to Earth!
December 5th - Lesson 1: First to Know - A Man Named Simeon
(The Promise Revealed)

God loves to reveal His plan if we are listening.
December 12th - Lesson 2: First Reporters: Shepherds on the Hill
(The Promise Announced)

God wants us to tell the world about Jesus!
December 19th - Lesson 3: Eye Witness: The Innkeeper
(The Promise Fulfilled)
God sent a Savior. We must make room for Him.
December 26th - Lesson 4: Ancient Anticipation: The Wisemen
(The Promise Foretold)

God keeps His word, in His time.

COMING SOON!