Categories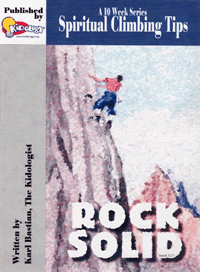 More Details ›
Kidology's Rock Solid Kids' Church Teaching Unit Download
Spiritual Climbing Tips by Karl Bastian
Rock Solid Teaching Unit
, by Karl Bastian, is a ten-lesson series on Spiritual Climbing Tips for going to great heights with God! Designed for grades 1-6, this kids' church unit has also been used at camps and VBS with great success.
Spiritual Climbing Tips:
Choose Your Guide (God)
Grab Your Lifeline (Salvation)
Follow the Handbook (Bible)
Watch Your Prayer Line (Prayer)
Don't Climb Alone (Church)
Climb With the Best (Friends)
Stay Awake and Alert (Christian Living)
Heed the Warning Signs (God's Commands)
Share the Experience (Witnessing)
Enjoy the Climb (Review)
Click here
for a more detailed description and a sample lesson.
Delivery of your Teaching Unit will be via a secure download link sent by e-mail shortly after purchase. Links expire 7 days after purchase.
---
Related Products