Categories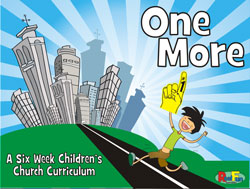 More Details ›
RealFun One More Curriculum Download
Six Week Series on the Power of One
One
is a number mentioned many times in the Bible. This series takes a look at the power that One can hold in life and ministry. Each week your children's church will be challenged to grow in faith as they find out how much potential is in each and everyONE of them. The
One More
series offers the games and creative teaching methods that you would expect from the RealFun Curriculum team. This series has also added more detailed PowerPoint presentations that will be sure to add excitement to your children's church services.
Click here
for a sample lesson.
Delivery of your RealFun Curriculum will be via a secure download link sent by e-mail shortly after purchase. Links expire 7 days after purchase.
Prefer your curriculum on CD
?
---
Related Products