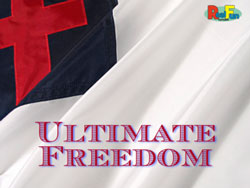 RealFun Ultimate Freedom Curriculum Download
Single Patriotic Lesson Perfect for the Fourth of July!
Ultimate Freedom
is a patriotic lesson for children's church. This children's church lesson for the 4th of July is perfect for elementary ministry.
Ultimate Freedom
will give the kids in your ministry a reason to take pride in their country while learning that Jesus offers us freedom from sin. Ultimate Freedom's Small Group Session dives into the history of our founding fathers and how they relied on God and His Word when fashioning our nations first steps toward independence.
Ultimate Freedom
offers a BONUS PowerPoint game called
Ultimate America Trivia Game
.
Ultimate Freedom
comes with an object lesson, Bible story, memory verse with activity and more.
Download Includes:
PDF Lesson Plans
PPT Presentation with Graphics
BONUS PowerPoint game called Ultimate America Trivia Game
Small Group Session about our founding Fathers.
This download resource is available instantly after purchase by clicking on My Downloads at the top of any page.
---
Related Products