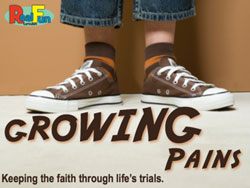 More Details ›
RealFun Growing Pains Curriculum Download
Keeping the Faith through Life's Trials
Many children have growing pains in the early years of life. Maybe their legs or joints feel sore for a time and then they turn around and see how they have grown.Growing Pains is a children's church curriculum that helps children deal with life's struggles and teaches them how to trust in God.
This curriculum looks at different Bible characters and some of the painful situations that they faces. The one thing that all of them had in common is that they trusted God and experienced growth toward being all that God wanted them to be. Sometimes growing requires some pain. If we learn to trust God in the painful times of life, we will see growth as we learn to be more like Jesus. Growing Pains takes the guessing out of the hard questions of life. Each week the children will learn that Jesus had some painful times in His own life...and because of His suffering we can trust that God knows exactly what we are going through and can help us through it.
Lesson Titles:
Week One: With Sickness, He Brings Healing
Week Two: With Loneliness, He Brings Comfort
Week Three: With Wrong Doings, He Brings Forgiveness
Week Four: With Confusion, He Brings Understanding
Includes:
Lesson Plans in PDF format
Powerpoint Presentation with Review Games
Small Group Session Handouts
Games, Activities, Teaching Helps, and More!
This download resource is available instantly after purchase by clicking on My Downloads at the top of any page.
---
Related Products