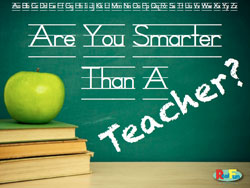 RealFun Are You Smarter than a Teacher PowerPoint Download
PowerPoint Game
Are You Smarter than a Teacher?
is a PowerPoint game that challenges the kids in your ministry to test their wits. They can find out if they really are smarter than their teachers. With two variations of the game included, you can have just a few children in your group play, or get the whole group involved. Great for any time of year for your children's church.
Download includes:
Powerpoint Game
Artwork and Graphics
Slide included with rules and game description
This download resource is available instantly after purchase by clicking on My Downloads at the top of any page.
---
Related Products