Categories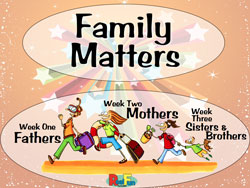 More Details ›
RealFun Family Matters Curriculum Download
A Look at What God's View of Love is in 1 Corinthians 13
Family Matters
is a series that tackles the sensitive issues of mixed families, broken families and other family situations that many children face in today's society. Family Matters takes a look at the life of
Moses
, a hero of the Bible who one of the most unique family set ups in all of history. By the end of this series we believe that the children in your group will be more thankful than ever for their fathers, mothers, brothers and sisters. We also believe that in this series the children in your ministry will learn that their heavenly Father fills all voids.
Family Matters
takes a look at what God's view of love is in 1 Corinthians 13 and applies it to the family setting in a creative way that kids can connect to and remember.
Download Includes:
PDF Lesson Plans
PPT with video
Graphics and Teaching Aids
Movie Clip Suggestions to be used with Prince of Egypt (Movie not included)
Week One:
Fathers protect, provide and persevere.
Week Two:
A Mother's love is patient and kind.
Week Three:
Brother's and sister's are not selfish.
Delivery of your RealFun curriculum will be via a secure download link sent by e-mail shortly after purchase. Links expire 7 days after purchase.
---
Related Products