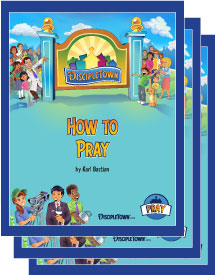 DiscipleTown All About God's Work in Me 3-Pack Collection
3 Complete Units for $99.95! - Units 8, 9, 11
The
All About God Working in Me Collection
features 3 months of
DiscipleTown
curriculum! This special release includes 3 popular teaching units that revolve around the common theme of spiritual development.
How To Pray
DiscipleTown Unit #8
This unit will teach children about four aspects of prayer, each starting with a letter of the word "PRAY"—Praising, Repenting, Asking, and Yielding.
How to Build Character
DiscipleTown Unit #9
This unit trains children to evaluate and take ownership of their spiritual growth, following the model of Jesus' growth in the short but powerful verse, Luke 2:52.
How to Discover Gifts and Talents
DiscipleTown Unit #11
Children will be encouraged to learn about both their talents and spiritual gifts and will be guided through a process of exploring what their spiritual gifts might be.
This download resource is available instantly after purchase by clicking on My Downloads at the top of any page.
---
Related Products