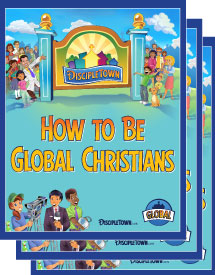 More Details ›
DiscipleTown All About Reaching Others 3-Pack Collection
3 Complete Units for $99.95! - Units 10, 16, 17
The
All About Reaching Others Collection
features 3 months of
DiscipleTown
curriculum! This special release includes 3 popular teaching units that revolve around the common theme of God's Word and helping fulfill the Great Commission.
How To Explain My Faith
DiscipleTown Unit #10
During this unit, your students will discover the joy of sharing their faith with others.
How to Know the Truth
DiscipleTown Unit #16
This unit introduces kids to basic questions and answers related to understanding and defending the Christian faith — the study of apologetics.
How to Be a Global Christian
DiscipleTown Unit #17
By broadening kids' perspectives to see beyond their local church and community, this unit will enable your children to grasp God's great plan and to participate in His Great Commission.
Delivery of your DiscipleTown Unit will be via a secure download link sent by e-mail shortly after purchase. Links expire 7 days after purchase.
---
Related Products