Categories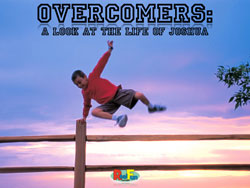 More Details ›
RealFun Overcomers Curriculum Download
Six Week Series on the Life of Joshua
Overcomers
is a look at the Life of Joshua. A series that will allow the children in your ministry to experience faith building lessons that will stick with them for life. They will learn about leadership, trusting in God, forgiveness, and so much more. Each week will prove to be an adventure into the wilderness with Joshua and the Israelites. At the end of each lesson they will celebrate with Joshua as God comes through again and again for His people. This series will challenge each child that experiences it to grow in ways that can be seen in their daily lives, as they become Overcomers.
Delivery of your RealFun Curriculum will be via a secure download link sent by e-mail shortly after purchase. Links expire 7 days after purchase.
Click here
for a sample lesson.
Prefer your curriculum on CD
?
---
Related Products