Fall Resources - Discipleship & Games

New! - School - Halloween - Thanksgiving - Discipleship - Games - Training - Heroes - Fantasy -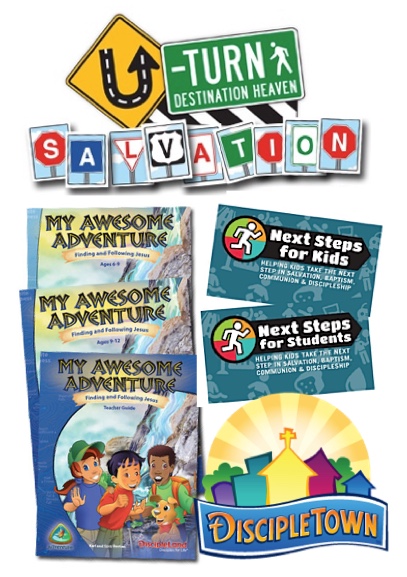 Turn Around
... then Grow!
Illustrate the salvation message in just 10 minutes as you travel down the Romans Road with U-Turn Cards, an easy Gospel presentation from Karl Bastian.
After a child has walked over the line of faith, help them to build on the essentials of being a disciple of Christ. Next Steps for Kids and Next Steps for Students will help to prepare kids for the "next steps" in their spiritual journey.
My Awesome Adventure is an amazing follow-up resource for new Christians or for kids who are not yet familiar with Christ. 12 lessons designed for ages 6-9 or 9-12.

Continue the journey with our DiscipleTown curriculum, authored by Karl Bastian to build "Disciple Skills." With 24 units in the curriculum plan, each interchangeable and lasting 4-5 weeks, you'll never run out of teaching ideas!
Play Games this Fall
Add a bit of mystery to your harvest season with Resurrection Clue Hunt, our adaptation of a classic deduction game. Spooky Bible Bingo will help kids remember that Jesus provides victory over death. Or illustrate thankfulness vs. selfishness with Gimmie! Gimmie! Thanksgiving, a fast-paced, holiday trading adventure! Teach your kidmin how to not just give thanks, but to LIVE thanks, with the ThanksLiving Game!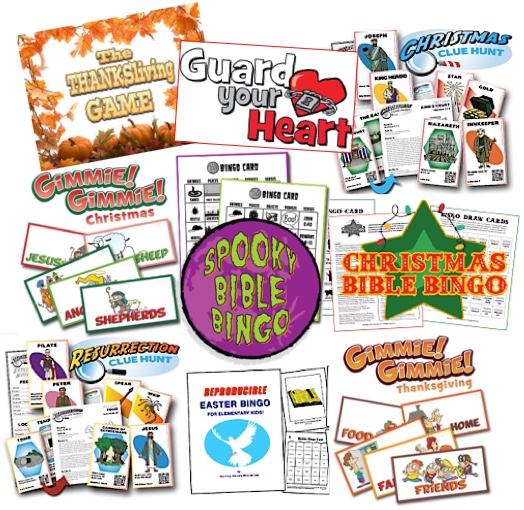 With busy holidays approaching, engage both small and large groups with Gimmie! Gimmie! Christmas, a great tool to teach about greed. Help kids remember the "reason for the season" with Christmas Bible Bingo. We also have a Christmas Clue Hunt to follow up the harvest version. Wrap things up by illustrating Proverbs 4:23... it's our Guard Your Heart game, a frantic object lesson on protecting what is important. You might also try our Easter Bingo Game as you approach the season of the Resurrection.
New! - School - Halloween - Thanksgiving - Discipleship - Games - Training - Heroes - Fantasy -