Categories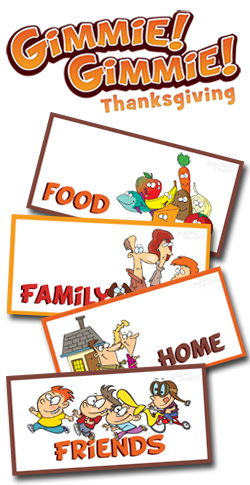 More Details ›
Gimmie! Gimmie! Thanksgiving Game
Fast-paced, holiday trading game & object lesson
Gimmie! Gimmie! Thanksgiving is a fast-paced, holiday trading game that illustrates thankfulness vs. selfishness. Ideal for just a few kids as well as large groups, the object is to collect a complete set of Thanksgiving cards, while avoiding the greedy Gimmie! Gimmie!

Hectic fun unfolds as players shout "Two! Two!" and other combinations of cards to trade, all while working to build a matched set in the time allotted. Adapted by Karl Bastian as a solution for understaffed volunteer situations around the holidays, it provides an interactive object lesson while requiring just a few leaders to run.

Your PDF game download includes:
Detailed Instruction Guide
Printable Set of 10 Cards (Color & B/W Versions)
Customizable Blank Card Template
Optional Card Backgrounds (Color & B/W Versions)
BONUS: See Gimmie Gimmie in action in this Zone Post, includes free downloads of instructions and another helpful PowerPoint game that goes with this product.
Delivery of your game will be via a secure download link sent by e-mail shortly after purchase. Links expire 7 days after purchase.
---
Related Products