Movie Review: Ice Age: Dawn of the Dinosaurs
Membership Level› Guest
Author/Source: Nancy Keith
Topic: Movie Review, Reviews
A review of Ice Age: Dawn of the Dinosaurs, including description of the movie, areas of concern, teachable themes, discussion questions, and scriptures to use.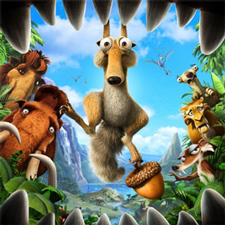 Overview

This third installment, Ice Age: Dawn of the Dinosaurs, is about families. Ellie and Manny are expecting. Manny is beside himself trying to make sure everything is safe for his wife and the new baby mammoth. Sid the sloth, still delightfully inept, finds three eggs and becomes the mother of T.rex triplets- temporarily. Even Scrat, the prehistoric squirrel, finds that true love is greater than an acorn- well, mostly.

The problems arise when Momma T.rex comes to the Ice Age world to find her baby and inadvertently takes Sid back to dinosaur world. These are not the Land Before Time dinosaurs. They are not happy and they do not sing. You don't want to be where they are because it is extremely dangerous. Despite all of the peril, Manny, Ellie and Diego the saber-toothed tiger go to the dinosaur world to rescue their friend. There they meet Buck, a swash-buckling weasel who eventually helps them find and rescue Sid and helps everyone get back to the Ice Age world.

This is not an earth-shattering, Cecil B. DeMille piece of motion picture art. It is just a fun, summer movie with lots of laughs. It does not preach anything. It makes no attempt to be factual or literal. If you are worried about how this will speak to your children about creation- don't. While there might be an implication to millions of years, this is not a piece trying to teach. The dinosaurs live below the ice….and there is lava down there...and it doesn't make much sense how that could even be possible. Oh, well!

Concerns

The dinosaurs were not the friendliest and there were some scary chases and fights. However, there were a lot of small children in the theater when I went, and no one got scared. There is a bit of bathroom kind of humor and some innuendo which is obviously for the adults, because the kids don't get it. The violence is more along the lines of slapstick with pratfalls, etc. There was a small about of name-calling.

Teachable Themes
Family is Important.

This was a prevailing theme throughout the movie.


Friends are Important.

We need to be faithful to our friends.


Seek Wise Counsel.

If you don't know what to do, get advise from someone who does.


Biblical References
Families are important.

Psalms 137:1-3 "Unless the Lord builds a house, the work of the builders is wasted. Unless the Lord protects a city, guarding it with sentries will do no good. It is useless for you to work so hard from early morning until late at night, anxiously working for food to eat; for God gives rest to his loved ones. Children are a gift from the Lord; they are a reward from him." (NLT)


It is important to get and keep good friends.

Proverbs 10:30 "The seeds of good deeds become a tree of life; a wise person wins friends." (NLT)
Proverbs 12:26 "The godly give good advice to their friends; the wicked lead them astray." (NLT)


Find wise counsel when you don't know what to do.

Proverbs 19:20 "Get all the advice and instruction you can, so you will be wise the rest of your life." (NLT)


Seek God's way when problems arise.

Proverbs 14:12 "There is a way that seems right to a man, but in the end it leads to death." (NIV)


Discussion Questions
Do you have friends that you know you can count on when you have trouble?


What is the best thing about your Mom? Your Dad? Your family?


What was the best adventure you ever had with your family?


Have you ever had a big problem that you couldn't find an answer to, but your family and friends stepped in and helped you?


Conclusion

This was not an earth-shattering film, just a fun summer one. I was most impressed with the devotion this cast of characters had with each other. The ad hoc family stood by each other through thick and thin. For the most part they were respectful and uplifting. When they got off-course, Ellie brought wisdom to the group.

Sid's relationship to the T.rex babies was positively endearing. He loved them and they loved him. Even the carnivorous Mama T.rex recognized that and eventually protected Sid from danger. In the end Sid understood that the best place for the babies was with their mother. It was a small picture of unconditional love.

Go and enjoy this one!