Movie Review: The Tale of Despereaux
Membership Level› Guest
Author/Source: Nancy Keith
Topic: Movie Review, Reviews
A review of The Tale of Despereaux, including description of the movie, areas of concern, teachable themes, discussion questions, and scriptures to use.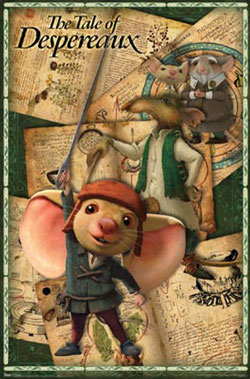 Overview

The Kingdom of Dor is experiencing some major problems. On "Soup Day," a rat, Roscuro, hoping to get a taste of soup, frightens the Queen who in turns passes out in the soup and dies. The King, in mourning, banishes all rats from the kingdom, upsetting the natural order of things.

There are three worlds in this movie: the Human World, the Mouse World and the Rat World. Believe me, you don't want to go to Rat World. It is dark and sinister. It is where mice are sent when they are banished. The rats are all pretty awful. Roscuro gets exiled there. Mouse World, however, is a pretty decent place. Despereaux Tilling lives there with his family.

Despereaux Tilling is indeed an amazing mouse, but he would never tell you that. When asked, he simply states that he is a gentleman who lives by a code of honor…chivalry, bravery, courage and truth. That is not the only thing unusual about this "gentleman." Despereaux is small even for a mouse, yet he sees himself as a giant. He has enormous ears. He wouldn't scurry. He doesn't cower. He reads books; he doesn't eat them. He drew a picture of a cat and named him "Fluffy." Those in the mouse community out and out tell him that he can't be a mouse if he can't learn to be afraid ... something Despereaux never learns. A recurring theme in this movie is what you look like doesn't equal what you are.

The Tale of Despereaux is a movie based on the book, The Tale of Despereaux: Being the Story of a Mouse, a Princess, Some Soup, and a Spool of Thread written by Kate DiCamillo. It won the Newbery Medal in 2004. DiCamillo also wrote Because of Winn Dixie.

We are told in the movie that "if you know anything about heroes you know that a hero doesn't appear until the world really needs one." The world really needs Despereaux. In the end, he rescues the Princess, helps the King, frees Roscuro and brings sunshine back to Dor…among other things.

This would be a wonderful movie just on the merits of that story, but deeper, this is a story that teaches about forgiveness. In fact, it characterizes asking for forgiveness as a noble quest. We are told, "Forgiveness is the strongest thing a person can feel. A single act of forgiveness can change everything."

Concerns

Despereaux does not follow rules. It is stated in the movie that these rules were not meant to restrict the mice, but to protect them. This would be a good point of discussion.

There is some mice vs. rat and rat vs. king's army violence. Some small children may have trouble with this. It is in no way graphic. My 5-yr-old niece had no trouble with this at all.

Teachable Themes
Fear has to be Learned.

Despereaux has no fear. Those in the mice community are very concerned with this. He is even paired up with his brother to learn how to fear, but fear does not come natural to Despereaux.


Forgiveness

Even though it was an accident, Roscuro understands that he must ask for forgiveness.


What You Look Like Does Not Equal What You Are.

Through the experiences of Despereaux, who is too small and has big ears, and Mig, who longs to be a princess, we learn that looks really don't matter...it is what is in your heart.


We Make the Choice in How We Respond to the Things that Happen in Our Lives.

In this movie we are told that, "The same thing that makes one person angry, can turn another person to grief."


Biblical References
Forgiveness

Colossians 3:13
"Make allowance for each other's faults, and forgive anyone who offends you. Remember, the Lord forgave you, so you must forgive others." (NLT)


Outward Appearances Don't Really Matter

1 Samuel 16:7
"But the LORD said to Samuel, "Do not consider his appearance or his height, for I have rejected him. The LORD does not look at the things man looks at. Man looks at the outward appearance, but the LORD looks at the heart." (NLT)


God Will Give Us Courage to be a Hero in This World
Deuteronomy 31:6
"So be strong and courageous! Do not be afraid and do not panic before them. For the Lord your God will personally go ahead of you. He will neither fail you nor abandon you." (NLT)


Discussion Questions
What happens if you make something illegal that is a normal part of this world?
What are the characteristics of a hero? Are you willing to be a hero for God?
What would you do if your own name was a bad word?
In this movie we are told that, "when you heart breaks it grows back crooked." What can straighten out a crooked heart?
What are your afraid of? How can you get rid of fear?
How would you feel if someone told you, "You look ridiculous?" What did Mig learn from her experience.
Roscuro needed to ask for forgiveness. Did he give up? Why?
How we react to things is a choice. In this movie we are told that, "the same thing that makes one person angry can turn another person to grief." Why do you think this is so?
In fairy tales, like this movie, everything works out in the end. Is this what it is like in real life? Why?
Conclusion
This movie really is a gem. It is straightforward and honest. It doesn't mind telling us truths head on. Not only did I enjoy it, but I was touched by it. It is worth the watch. I can't wait to see it again.