Movie Review: Delgo
Membership Level› Guest
Author/Source: Nancy Keith
Topic: Movie Review, Reviews
A review of Delgo, including description of the movie, areas of concern, teachable themes, discussion questions, and scriptures to use.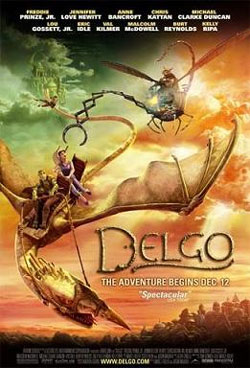 Overview

The land of Jhamora is idyllic. The Lockni people, who are the sole inhabitants of this land, are peace-seeking, happy and prosperous. Delgo lives in Jhamora with his parents in a loving, caring home.

The Nohrin people look like fairies…complete with wings. Their land is the complete opposite of Jhamora. It is self-destructing. They must find some place to go before their race is destroyed. They are welcomed by the Lockni and begin living in Jhamora.

Everything goes well until the Nohrin king's power-hungry sister, Sedessa, decides to wipe out the Lockni. Many Lockni are killed including Delgo's parents. When the Nohrin king hears of Sedessa's acts, he orders her to stop. She, in turn, attempts to murder the entire royal family, but ends up only killing the queen. In punishment, Sedessa has her wings removed and is banished to a desolate land to live her life out in exile.

Fifteen years later, the Lockni and the Nohrin are still living together in Jhamora but it is a land rife with racial tension. There is so much hatred and mistrust between the two nations that they do not interact. Delgo is so bitter toward the Nohrin and believes his feelings are justified. One day a chance meeting with the Nohrin Princess Kyla, who saves his life, begins to melt the bitterness in his heart toward the Nohrin.

Meanwhile, the exiled Sedessa has found a way to unite the other malcontents where she lives. She once again plots, plans and schemes to begin a final war to destroy the Lockni and give Jhamora solely to the Nohrin. Sedessa works with some rogue officers and confidants of the Nohrin to kidnap Princess Kyla and blame it on the Lockni, igniting a full war between the two nations. In the end, Delgo, his cowardly friend Filo and a former Nohrin general, Bogardus, save the day by rescuing the princess, saving the king and stopping the war. In the process of doing all of this, Delgo, and others, realize that prejudice accomplishes nothing but hurt and destruction.

Concerns

There is quite a bit of violence in this movie. In their battles, the Nohrin and Lockni punch, hit, kick, stab and shoot each other among other things. I would not take a young child to this movie-maybe 9 or above. It is rated PG. Although there is some name-calling, it is not offensive. Delgo and Princess Kyla hold hands and even kiss. While I realize that some families would not allow children to see any of this, the reality is that a lot of families simply don't care. There is no more violence here than what you saw in Prince Caspian and no more romance than what you saw in Enchanted.

The Lockni do have a "faith," but I found it to be more Star Wars-esque. Elder Marley teaches Delgo to use the "pulse" of the stones. This telekinetic energy seemed to be more in the way of "the Force" than an attempt to introduce some new age philosophy.

Teachable Themes
Racial Tension Can Be Healed

When Delgo and his friend, Filo, work side-by-side with the Nohrin, they realize that they are not all that different. He is urged throughout the movie to, "Let go of the past and try to move on." By the end of the film he does.


Forgiveness

Delgo starts as a brash, bitter young man. In the end, his heart is changed as he forgives. Elder Marley says in the end, (loose quote) "We cannot change the past, but we can change what we learn from it….when one learns vengeance another learns mercy."


War

Elder Marley says there is "Only honor in fighting for what you believe if what you believe is honorable." There is great wisdom in translating this to the wars and fighting we do in our daily lives…between friends, schoolmates, brothers and sisters, etc.


You are Not Alone

Twice in this movie Delgo is told, "You're on your own, kid." In the end, he finds out that he really is not on his own…that it is okay to depend on others.


Biblical References
Forgiveness

Colossians 3:13
"Make allowance for each other's faults, and forgive anyone who offends you. Remember, the Lord forgave you, so you must forgive others." (NLT)


God Looks at the Heart

1 Samuel 16:7
"But the LORD said to Samuel, "Do not consider his appearance or his height, for I have rejected him. The LORD does not look at the things man looks at. Man looks at the outward appearance, but the LORD looks at the heart." (NLT)


We are Told to Watch What We Do and Say

James 1:19 "Understand this, my dear brothers and sisters: You must all be quick to listen, slow to speak, and slow to get angry." (NLT)


Conclusion

Delgo is the first effort from Atlanta-based Fathom Studios and has been in development since 1998. Marc Adler, the Sublime Patron of Dreams (yes, that is his title, but all the Fathom Studio folks have imaginative job titles) says his goal in making Delgo was, "We aim to have a compelling, socially responsible, yet entertaining story with universal themes that impart moral virtues in a way that touch audiences both young and old. In addition, the fantasy-art look of the film also lends itself to something unlike anything audiences have seen before; a very human story told in a non-human world. Thus far, every CG feature film has been set on Earth. Our story is set in an original world and therefore we have immense freedom in taking our audience to the depths of imagination."

Indeed, the animation is incredible in this film. It is completely unlike Pixar, but very effective.

Delgo will teach young and old important lessons about war, tolerance and forgiveness.