The Incredibles Movie Review
Membership Level› Guest
Author/Source: Jeramy Chapman & Daniel Bigler
Topic: Movie Review
Dodger Flebert and Alfie Kloeper discuss the latest Pixar film, The Incredibles... hear them for yourself!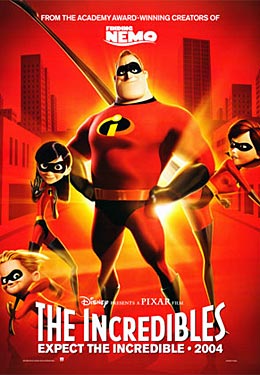 Dodger: Hello folks and welcome once again to At The Cinema with your hosts Alfie Kloeper and yours truly Dodger Flebert. Alfie will soon be talking to us live as he calls in from the Canned Fish Film Festival. Just a reminder that you can download an audio MP3 file of this movie review for the full interactive experience:



Right-click and save audio
(MP3, 2.4MB, 5:13)

THE STORY

Dodger: Do you remember running around the house as a kid in your underwear with a bed sheet tied around your neck pretending to be the ultimate superhero? We would jump from couch-to-couch vanquishing bad guys that crossed our path. Yet, even to this day, there is one question that still vexes me... what happens to superheroes when they grow old and retire?

Pixar's newest adventure, The Incredibles gives us an insightful and humorous look in to what that might be like. The Incredibles let's us follow the life of one of the greatest superheroes of all time... Mr. Incredible himself! We see him fight crime, rescue cats, meet other superheroes, get married to Elasti-Girl and... get sued?

As a result of this lawsuit, all superheroes are forced to retire into their mild-mannered alter egos to begin the life of the mundane. Mr. Incredible and Elasti-Girl settle down and begin to raise a family. This is no normal family, however, as all of the children begin to develop superpowers of their own. While you would think this would be challenging enough, Mr. Incredible can't seem to leave behind the world of crime fighting and begins to get himself into trouble. What ensues is an entertaining movie; wouldn't you say so, Alfie?

POSITIVES

Alfie: Well, I'll tell ya, Dodger, there ain't a kid out there who doesn't love superheroes. They're just great fun. And I gotta say this movie is great too. It perfectly captures that thrill you got when you were six-years-old and ran around the house in nothing but underwear and a cape.

The Incredibles is a very real film in just how it captures people and the issues they deal with: family issues, middle age, all of that; it captures it so authentically, any adult getting up there in years who walks into the movie can tell you that.

The great positives of this film are that Pixar, while being very true to the story, has really emphasized several important things here: faithfulness, uniqueness, family communication, trust. The Incredibles' family isn't perfect and sometimes hate each other like real families do, but they do in the end realize that it takes being faithful, trusting each other, and communicating to make a good family, among other things. And the biggest plus is that it shows and relates to both the parents' and kids' sides and each of their responsibilities in a family.

It tackles all these great themes, themes that kids aren't exposed to enough of these days, but the grooviest thing about it is that it does so while having tremendous fun. Whoever thought cartoon superheroes in spandex could ever be so much fun and yet still teach great values?

So there's a few of the great things, Dodger, but that's not to say The Incredibles is incredibly perfect. I mean, a lot of people don't like spandex, for one thing.

NEGATIVES

Dodger: How can people not like spandex... it breathes so well! But you are right, Alfie, there were a few things I wasn't crazy about in this movie. While he comes clean in the end, Mr. Incredible spends most of the movie sneaking around behind his family's back. This gets him in some hot water or lava in one case, and leads Elasti-Girl to believe he's having an affair.

You know, Alfie, there was one area that disturbed me personally. SUPER HEROES AREN'T SUPPOSED TO DIE!!! The Incredibles reveals several superheroes have been killed by the evil bad guy genius and we even see Mr. Incredible hide behind the skeleton remains of one of his fallen comrades! On the flip side, however, it does show how people fall regardless of their abilities.

You know, Mr. Incredible was really more of a Mr. Independent through most of the movie and in his dealing with one particular young man. This comes back to haunt him later in the movie. It's safe to say, though, that Mr. Incredible learns the value of communication, openness, and honesty in the end.

APPLICATION FOR CHILDREN'S MINISTRY

Alfie: It was so cool, Dodger -- when I walked out of the movie theater, my mind was just racing with the possibilities of how we could use The Incredibles in our children's ministry. The whole superhero thing is just too good to pass up; I think you could easily do a whole curriculum set on what it takes to become a "superhero" for Christ.

And, just like how Mr. Incredible in the movie just couldn't stand being stuck in the crowd, being forced by the government to not act like a superhero, we as Christians shouldn't hide our super identities. We have such an awesome super power in Christ, and we need to share that gift.

I think Karl has a groovy "Super Hero Academy" curriculum set located in the Kid's Church Lessons area, too; check that out. There's also plenty of object talks in store that you can use The Incredibles for! Use it for anything from spiritual gifts to something as simple as family issues -- and think of it this way, it's also an excellent opportunity to wear spandex to church!

I can see you doing that, Dodger!

Dodger: What can I say, it's practical AND stylish.

PERSONAL VIEWS

Alfie: So here's the final question, Dodge, on the Kidology scale of 1-4 "bright idea" light bulbs -- what would you rate The Incredibles?

Dodger: I would say this movie rates an incredible 3 ½ bulbs. It's a great movie for the whole family. Pixar has done it again!

Alfie: Yeah, I guess I just have to say that also I loved it. The overused cliché in this case is that The Incredibles was simply incredible! I too give it 3 ½ bulbs!

Dodger: So there you have it, folks! For Artie Kloeper, I'm Dodger Flebert and we'll see you next time At The Cinema!
This has been At The Cinema
with Dodger Flebert and Alfie Kloeper