The Polar Express Movie Review
Membership Level› Guest
Author/Source: Henry Zonio
Topic: Movie Review
The Polar Express promises to be a true family movie and a Christmastime classic.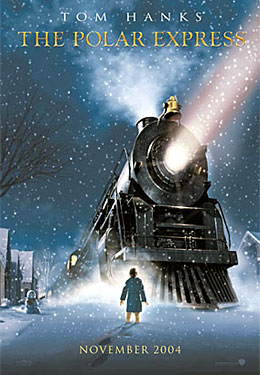 There comes a time in every child's life when he stops believing the unbelievable. The tooth fairy stops leaving money. The Easter bunny can't lay eggs. Santa couldn't possibly travel fast enough to deliver all those gifts. What happens, though, when a child is at the crossroads between faith and reality? The movie adaptation of the classic children's book The Polar Express gives us a glimpse of this time in a child's life by weaving wonderfully creative storytelling with innovative computer animation.
Synopsis
The book, The Polar Express, tells the story of a boy who has begun to doubt the existence of Santa Claus. On Christmas Eve, he wakes up to see a train has pulled up in front of his house. This train is the magical "Polar Express" which takes the boy, along with other children, to the North Pole to see Santa. Along the way the boy comes to hold on to his belief and manages to do so into adulthood. Screenwriters Robert Zemeckis and William Broyles take this book of few words and expand it into an amazing adventure including a rollercoaster-like train ride, professional elf paratroopers, and a song and dance number involving hot chocolate. Fans of the book will be delighted to see their favorite pages come to life in this movie.
Personal Take
I loved this movie! I was immediately drawn into the story and could easily empathize with the boy who struggled between belief and skepticism. From what I've seen of the book, the animators did an amazing job of recreating the original artwork. I disagree with the reviews which place heavy criticism on the animation saying that it is spooky or zombie-like and would be frightening to children. Admittedly, the animation is no comparison to that in The Incredibles, but the technology used for this movie, which I won't go into in this review, is relatively new and unused in feature films. When compared to other movies and video games that have used this technology, The Polar Express stands out among them in quality. I believe that most children will see one of their favorite storybooks come to life when they see this movie and not some plastic, expressionless computer-animated characters.
In addition to enjoying the movie, I was overjoyed to see a G-rated family film show up in theaters again. It's not often that I am able to whole-heartedly recommend a film to families, but I can truly say that The Polar Express earns the title of a true family film. This movie is bound to join its ink-and-paper counterpart as a Christmas classic.
Considerations to Take Into Account Before Viewing
As with any movie, there are some things to take into consideration before rushing out and watching this film with your family. I believe the biggest issue is that this movie about Christmas and faith completely leaves out any acknowledgement of Jesus and his birth as the true reason of Christmas and replaces those things with Santa Claus. Some parents may choose to use this opportunity as a teachable moment and use the themes of faith and believing to talk about our faith in God and the importance of Jesus' birth. Other parents may choose to avoid the entire Santa Claus character so as to not confuse their children.

There are some other aspects of The Polar Express movie that may cause parents to choose not to see the movie. There are a number of action scenes that may be intense for some children, which include characters almost falling off the train as it is moving and the train going on a wild ride reminiscent of a Six Flags rollercoaster. Also, there is a hobo character (not in the book but in the movie), who appears and disappears throughout the movie. The only potentially frightening scene happens in a boxcar full of discarded toys. The main character gets stuck in the darkened boxcar surrounded a mass of marionettes and other toys. As the boy heads for the toy, it seems as if one of the puppets comes to life and talks to him in a way that could be frightening. The scene immediately pans to the top of the boxcar where you see another character who is operating the puppet.
Positive Aspects
In addition to The Polar Express being a true family film, it has many redeeming values that resonate throughout the movie. There is a scene where the children are treated to hot chocolate while on the train. One of the characters notices that one of the boys, who had secluded himself in another boxcar away from everyone else, had not received any hot chocolate. In a very unselfish and noble way, this character takes it upon herself to bring an extra cup of hot chocolate to the boy. In another scene, the main character loses a girl's ticket. When the conductor confronts the girl about her lost ticket, the main character bravely stands up and takes responsibility for losing it. Other virtues of friendship, patience, generosity, respect, and kindness are shown as admirable qualities to have.
Ministry Application
There are so many ways that this movie could be used in children's ministry. The theme of faith vs. skepticism is one that all of us in children's ministry need to address with the children we minister to. The most poignant part of the movie where a lesson could be drawn out of was when the main character realized he could not hear the sleigh bells ringing. Because of his waning belief, he could no longer hear the bells. When one of the sleigh bells came off, he picked it up and shook it next to his ear. All he heard was the word "Doubt" repeated over and over again. He realizes what is happening to him and chooses to believe. At that moment he hears the sleigh bell ringing. This can be used to talk about the life changing power of God in our lives. Before we put our faith in God, we are disconnected from Him and cannot hear Him. At the moment we believe and make God the boss of our lives, we are changed in an instant and are able to hear Him speak into our lives and follow Him.
Another powerful lesson that can be used in the movie is when the kids are being taken back home. The main character realizes that he has lost the sleigh bell that Santa had given to him. In other words he had lost his only tangible proof that Santa was real. He arrived back to a house with no presents under the tree, no stuff in stockings and a plate still full of cookies on the coffee table. He had to choose to believe without having tangible proof. In the morning, his last gift was the sleigh bell that he had lost. As the movie ends, the narrator states that everyone around him lost the ability to hear the bell, but he never did. This can be used to talk about faith and how faith is not dependent on what we can or cannot see. Our faith must be based on the truth of God's Word in the Bible. In those times when God seems far away, we need to hold on to our faith in Him. He is always there to remind us that He cares and is real. It also tells us about the fact that it gets harder to believe and trust God as we get older, but we need to hold onto our faith regardless of whether our friends and family do or not.