Movie Review: Rango
Membership Level› Guest
Author/Source: Glen A. Woods
Topic: Movie Review, Reviews
A review of Rango, including description of the movie, areas of concern, teachable themes, discussion questions, and scriptures to use.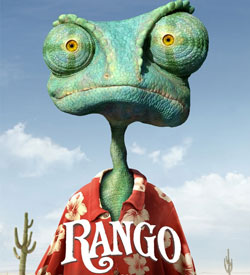 Overview

Rango is a pet chameleon who has lived his entire life within the safe confines of a glass terrarium. Yet, he aspires to be a swashbuckling hero, acting out his fantasy by telling stories of daring to his inanimate companions. Yet he senses something is missing, something meaningful to his stories. Conflict. Yes, that's it. He needs conflict—and then, even as he utters that proclamation, he and his habitat are tossed out the car window due to a near accident, landing on the desert floor of the deep Southwest. He immediately meets a wise armadillo who directs him to Dirt, a Western town plagued by water shortage and bandit abundance. What they need is a sheriff. After some fast-talking about imaginary exploits, and a run in with a hawk, which leaves his avian adversary beak down in the hardened soil, Rango is a clear shoo-in as the town's lawman.

And that is where his real problems begin. Now he must live up to the hopes which the townsfolk, a menagerie of various desert critters, have placed him. Soon, the town's water supply is stolen. Panic ensues. Rango musters a posse. As they ride out, one of his companions asks, "Where are we going?" Where, indeed? Now it was time for Rango to live up to the hype of his imaginary stories. He does, for awhile, only owing to the haplessness of his adversaries, and the accidental good fortune of his own posse. But in the end, he is found out, exposed, revealed as the fraud he is. Shamed, he walks out of town. Although his suspicions as to who the real mastermind of town's stolen water supply hinted at redemption, he had already lost credibility with his people. Their hopes were dashed.

And that is when he encountered a Clint Eastwood-like sage on the other side of the highway, who told him, "You can't walk out on your own story."

Rango took the encouragement to heart, owning up to his failures and deceit, taking on the true bad guy, recovering the water for the town, and regaining the respect of the townsfolk of Dirt.

Concerns

Rango is rated PG, which seems to be an appropriate rating, so long as parents take it seriously. Parental guidance is suggested in choosing whether to view the film.

There are several instances of the word hell used as a curse word. Plus there is another harsh swear word which I will refrain from repeating here. Although the words may seem in character for a Wild West theme, parents will want to decide whether they want to expose their children to them.

There are also scenes of violence, menacing, an especially scary looking snake who steals the show as a bad guy, and numerous scenes of peril. Younger children may become frightened.

Teachable Themes
Imagination is Good and Fun in its Proper Place
When Rango was using his imagination to entertain himself within the terrarium, that was perfectly fine because it was out of a sense of play. Even outside of the terrarium, there could have been a proper time and place for the imagination, or making up stories.



Imagination Should Not Be Used to Tell Lies
When he began to use it to lie to others in the town of Dirt to persuade them that he was someone he was not for his own gain, it was not wise. It was wrong.



It is Better to Confess Wrongdoing Upfront
Throughout the narrative, Rango is portrayed as sensing his lying was wrong, but he chose not to stop or to tell the truth himself. Instead, near the end at a critical time when he was about to point out the true town culprit who stole the water supply, another bandit exposed Rango as a fraud, depleting him of any credibility. He walked away from the town in shame, tossing his Sheriff badge to the ground. He walked out on his story.



You Should Not Let Shame Make You Give Up
"You can't walk out on your own story." Only you can live the life that God has given to you. Although Rango had made up falsehoods and had deceived the people, he realized he needed to set to rights the wrongs he had done. He needed to own up to his bad choices and try to help the people. And so he did. Not bad for a chameleon. We should do so as well, no matter what we think we have done, or have actually done.

Biblical References
Imagination Should Not Be Used to Tell Lies


Psalm 4:4 - When you are disturbed, do not sin; ponder it on your beds, and be silent.
Ephesians 4:25 - So then, putting away falsehood, let all of us speak the truth to our neighbors, for we are members of one another. Exodus 20:16 You shall not bear false witness against your neighbor.
Psalm 51

It is Better to Confess Wrongdoing Upfront


James 5:16 - Therefore confess your sins to one another, and pray for one another, so that you may be healed. The prayer of the righteous is powerful and effective.
1 John 1:9-10 - If we confess our sins, he who is faithful and just will forgive us our sins and cleanse us from all unrighteousness. If we say that we have not sinned, we make him a liar, and his word is not in us.
Numbers 32:23 - But if you do not do this, you have sinned against the LORD; and be sure your sin will find you out.

You Should Not Let Shame Make You Give Up


Psalm 51:11-13 - Do not cast me away from your presence, and do not take your holy spirit from me. Restore to me the joy of your salvation, and sustain in me a willing spirit. Then I will teach transgressors your ways, and sinners will return to you.
Discussion Questions
Do you like to imagine yourself as a hero in stories? What happens in the stories? How does it make you feel?



Have you ever lied to others in order to make yourself look good in their eyes? What happened? What do you think you might have done differently?



Have you ever admitted to a lie you told before anyone found out about it? How did that affect you?



Have you ever had a lie you told discovered and exposed by someone else? How did that make you feel? How did you respond? What would you do differently now?



Have you ever felt ashamed of your wrong doing? What do you suppose will help overcome it so you can experience God's joy again?

Conclusion

Rango is genuinely a great movie for most of the family. I encourage parents to consider the age and sensitivity of their children as they make a decision whether to view it. The themes will speak to young and old alike, but probably more so to those who have maturity to grapple with abstract concepts such as the imagination, lying, shame, responsibility, and redemption. Younger viewers may need assistance to notice the subtleties of the plotline and interacting themes.