Karl's Books
In addition to writing prolifically for Kidology.org, Karl Bastian has published a number of curriculum and books of interest to those in children's ministry:
CURRICULUM: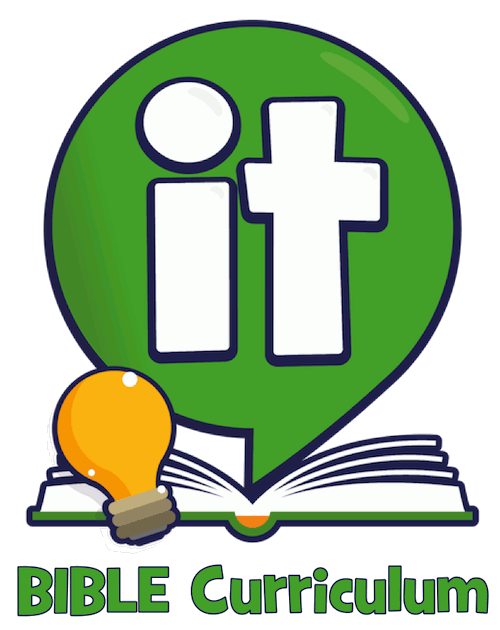 it Bible Curriculum
it is a brand new Super FUN, Scripturally SOLID Children's Church Curriculum!
it is DIFFERENT because it includes everything you WANT in a kids church curriculum without all the fluff and extra work.
it offers you a fully-packed curriculum along with the flexibility to use what you want!
Check out it Bible Curriculum, and the schedule of available series.
DiscipleTown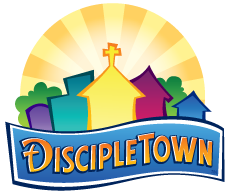 Karl is the creator and author of DiscipleTown - a series on the "How To's" of the Christian faith. It covers 24 skills every fully devoted disciple of Jesus Christ needs to have for victorious living. It is published by DiscipleLand.
Take a look at the DiscipleTown Curriculum Map, as well as read detailed Unit Overviews.
Stickers Through the Bible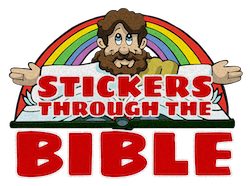 This revolutionary concept allows non-readers to feel like they are "reading" and mastering the Bible, even before they can read. Preschoolers will learn basic Bible facts and gain an understanding of the overview and flow of God's Word and a fundamental mastery of the Book. The advantages this will give them later in their Christian life are significant; most of all, a love for God's Word and a desire to be able to read it! Learn More
Adopted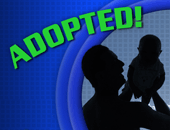 As an adoptive dad, Karl wrote Apdopted to explore Bible characters that were adopted, from Moses to Jesus. The theme of this lesson is based on Ephesians 1:5: "His unchanging plan has always been to adopt us into His own family by bringing us to Himself through Jesus Christ. And this gave Him great pleasure."
ALSO:
Curriculum not listed in detail such as these for Easter and Thanksgiving and a Christmas Play. As well as various Kid's Church individual units available in the Kidology Store and many games such as the Bible Clue Hunts.
BOOKS: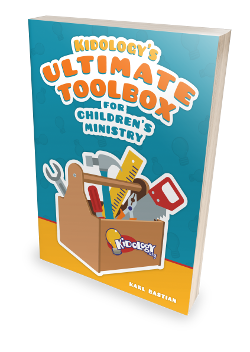 NEW! Kidology's Ultimate Toolbox for Children's Ministry
If Children's Ministry leadership was a construction site, you'd want the sharpest, time-tested tools recommended by a veteran who had worked on a wide variety of projects. Equip yourself with the tools you need to build a ministry that will last!
Pastor Karl has been building solid children's ministries and developing leaders for decades and now he has put together a Toolbox loaded with his sharpest tools! The Toolbox is organized into five Ministry Improvement Sections with an introductional video for each and then a final challenge from the author./p>
In addition to the helpful tools in this 336 page book, Karl has added over 40 bonus downloadable PDF forms and videos to sharpen your ministry skills.

Kidology's Ultimate Toolbox
via Kidology Store
It's About Relationships: A Guide to Effective Children's Ministry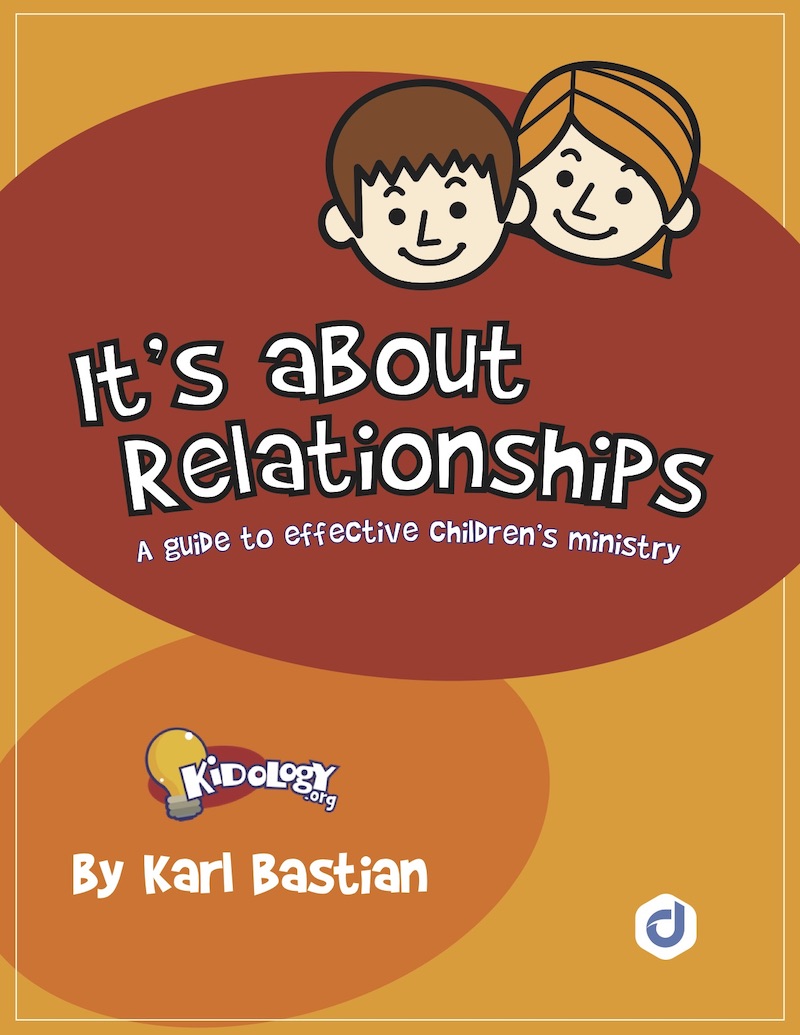 There is no shortage of programs, resources, or ideas in children's ministry today, but at the end of the day, what is most effective in reaching kids for the Gospel hasn't changed in a hundred years. It's building relationships and personally introducing children to the Savior. This ebook is loaded with practical ideas on how to have a more relational ministry. You'll be surprised by the results!
God created us for relationship and it is through relationships that the most genuine and effective ministry is done. Are you ready to increase the relational impact of your children's ministry?

It's About Relationships
free download!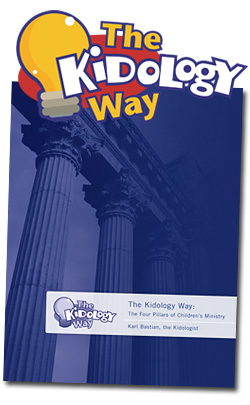 The Kidology Way: The Four Pillars of Children's Ministry
Inside The Kidology Way by Karl Bastian, you'll learn the Four Pillars of Children's Ministry that will ensure a ministry where kids become fully devoted disciples of Jesus. Trends come and go, but a ministry that is built upon this foundation will turn out solid kids who can stand strong through the storms of life.

This 50-page eBook is available FREE to Kidology All Access Members. As its core are time-tested principles of children's ministry rooted in Scripture, which match up with the weekly realities of children's ministry as experienced by those in the trenches week in and week out.

The Kidology Way doesn't offer shortcuts, easy solutions, or prepackaged ministry. However, as its Mission declares, it does seek "To Equip and Encourage Those in Children's Ministry," while upholding some principles that are the underpinnings of a solid, biblical children's ministry.

The Kidology Way
via Kidology Store (or free for All Access Members!)
Andy and the Ants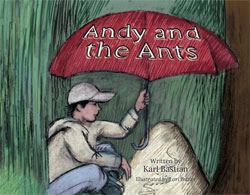 For young children
What's a boy to do when he learns that his beloved ant hill, hidden in a secret hide out, will soon be destroyed to make room for a new shopping center? When all human attempts to save them fail, there is only one thing left to do. Become an ant and warn them in person!
This wonderful parable makes the concept of the incarnation understandable to children perhaps for the first time! Beautifully illustrated, this delightful story will have kids and parents turning each page and smiling as they discover the parallels to the true story of the One who gave up everything to warn those He loved and to prepare a better place for us in His Father's House.

Andy and the Ants
via Kidology Store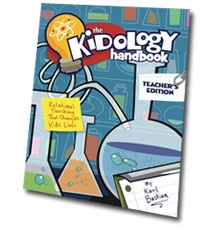 The Kidology Handbook: Teacher's Edition has been a blueprint for an effective teaching ministry for over ten years... and now it has gotten even better! Learn the "Kidology Method" of relational ministry, in addition to insightful instruction on preparing & teaching lessons, sharing the Gospel, shepherding kids, classroom discipline, and more.

This revised and expanded comprehensive ministry manual features a bonus audiobook version.



The Kidology Handbook
via Kidology Store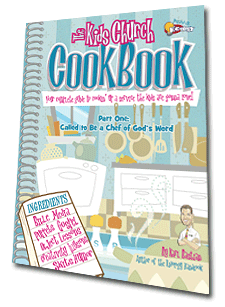 The Kids Church Cookbook cooks up Karl Bastian's secrets for what it takes to be a Chef of the Word of God -- and he should know, having served up over 1,000 Kids Church services! This resource is loaded with insightful instruction and practical training that will help both beginners and veterans.

Two years in development, this rewrite of the classic Kidology Kids Church Book has been been enhanced and expanded. Featuring 7 individual training installments, each with a companion instructional video, The Kids Church Cookbook equips you to create children's church services that kids love.



The Kids Church Cookbook
via Kidology Store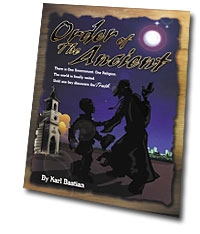 Order of the Ancient is a novel for kids, inspired by epic tales enjoyed since childhood, possessing the adventure that will engage today's middle to upper elementary children. Containing elements of the great stories of old -- good vs. evil, ancient tradition, young heroes mentored by wiser sages, supernatural powers and miracles, mystery, and great battles -- Order of the Ancient allows kids to imitate the characters, resulting in their ongoing practice of the Spiritual Disciplines.



Order of the Ancient
via Kidology Store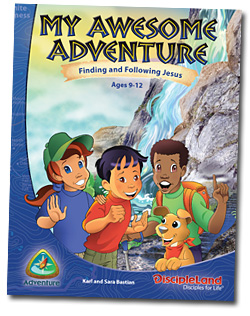 My Awesome Adventure: Finding and Following Jesus curriculum was written by Karl Bastian and his wife Sara. This collection of 12 basic discipleship lessons is ideal for small groups or one-on-one discipleship.



Awesome Adventure Ages 6-9



Awesome Adventure Ages 9-12



Awesome Adventure Leader's Guide



Awesome Adventure Spanish/English Edition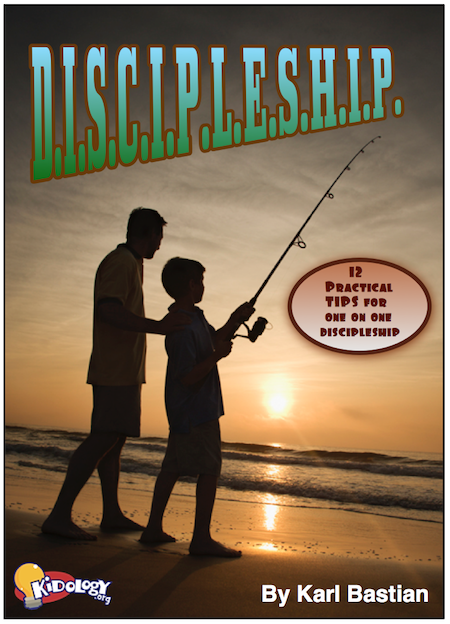 12 Tips for Discipleship
Kidology's founder, Karl Bastian, has been an advocate of discipleship since his girlfriend's dad challenged him in college to become an intentional discipler of others. Rev. David Yount's discipleship Bible study guide had been used to disciple thousands on the mission field. Karl married his daughter and together they wrote Awesome Adventure, a discipleship workbook for children.
Many of Karl's disciples are now in ministry or serving in the local church. The power of one-on-one discipleship is life changing.
Taking years of countless hours of one on one discipleship experience, Karl has compiled 12 Practical Tips for One on One Discipleship.
If you desire to become a discipler, or want to be more effective in the mentoring relationships you currently have, this new book will challenge, inspire and offer practical tips to make you a great discipler!
This eBook is a Kidology All Access Member exclusive!
To download, be sure you are logged in and click here to access the book.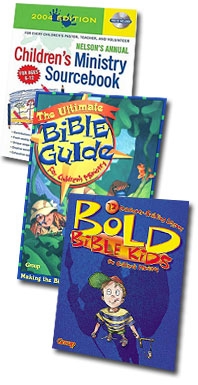 Karl has been a contributing author for the following books and publications:

Nelson's Annual Children's Ministry Sourcebook: 2004 Edition (Thomas Nelson)



Children's Ministry Sourcebook (2004)
via Amazon.com

The Ultimate Bible Guide for Children's Ministry: Helping Kids Make the Bible Their Lifetime Friend (Group)



The Ultimate Bible Guide For Children's Ministry
via Amazon.com

Bold Bible Kids: 12 Character-Building Lessons for Children's Ministry (Group)



Bold Bible Kids
via Amazon.com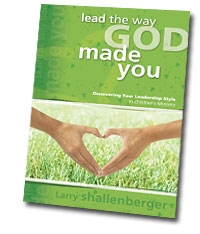 Karl is featured as one leadership model in Group Publishing's Lead the Way God Made You: Discovering Your Leadership Style in Children's Ministry by Larry Shallenberger.

This practical guide helps you discover your personal leadership style so you can maximize your strengths. Feel more comfortable and confident in your leadership role, and make a lasting difference with your colleagues, volunteers, and parents.



Lead the Way God Made You
via Kidology Store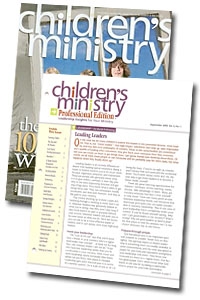 Karl has written for a wide variety of magazines, as well as denominational and ministry journals, including a regular column in Group Publishing's Children's Ministry Magazine ("6-9 Age Level Insights") and regular contributions to Children's Ministry Professional Edition. (no longer offered by Group.)



Children's Ministry Magazine
via ChildrensMinistry.com
What Matters Now in Children's Ministry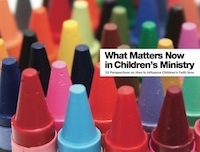 Karl Bastian was one of over 30 contributors to a book compiled by Matt Guevara, Henry Zonio and some friends that asked the question, "What Matters Now in Children's Ministry."
You may download the book here.
Discuss the book in the Kidology Forum.
For information on contracting Karl for writing projects, please contact Karl directly.