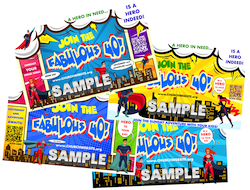 More Details ›
Recruiting Tool: Fabulous Superheroes!
Fun Superhero-Themed Recruiting Flyers
All Access Members
can
download this recruiting tool
for
FREE!
Recruiting is a never-ending job! That's why it's important to be fresh and original in how we approach prospective volunteers. The invitation to serve children must be creative and positive, but consistent!
A big part of recruiting is making the on-ramping process INVITING and EASY! Of course, when a leader talks to someone about serving, they know to direct them to the next step in getting involved, but what about when another leader or volunteer has that conversation?
You have to make it both EASY and INVITING to join the kids ministry team, or you can LOSE POTENTIAL VOLUNTEERS and never even know it. You need a method for CAPTURING the contact and interest information of potential volunteers.
Pass out these Superhero themed flyers over four Sundays or just print a variety so every parent gets a different one at pick up. However, keep in mind - flyers are only effective in providing a way to give people action steps. Personal invitation will always be the most effective means. For greatest impact, use these flyers along with a matching themed page on your church website.
The "Fabulous 40" sample is for illustrative purposes only. These are completely editable files! Included in your download are FOUR BLANK flyers, EIGHT completely blank backdrops, and 9 hero graphics you can use to theme your recruiting campaign.
This download resource is available instantly after purchase by clicking on My Downloads at the top of any page.
---
Related Products