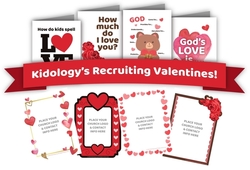 More Details ›
Recruiting Tool #02 - Valentine's Recruiting Cards
Send home Valentine's that invite folks to join in sharing God's love with children.
All Access Members
can
download these Recruiting Cards
for
FREE!
The month of February is known for Valentine's Day! Kids love making and exchanging Valentine's Cards, but why not send home some Valentine's that not only express God's Love, but encourage parents to volunteer in the children's ministry and be a part of reaching kids for Jesus?
Four completely different styles are provided. They are fun, meaningful and intentional cards that express God's Love for children, but also invite folks to be a part of reaching them for Jesus. The back of each card provides space for your own ministry logo and contact information.
The graphic is provided in both a Printable PDF as well as JPG and PNG.
Instructions on how to
customize the cards
for your church.
This download resource is available instantly after purchase by clicking on My Downloads at the top of any page.
---
Related Products