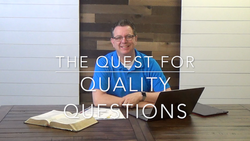 More Details ›
Volunteer Training Video #07 - The Quest for Quality Questions
All Access Members can
download the Volunteer Training Video Series for FREE!
Questions are the most powerful teaching tool when used correctly. Learn the secrets of asking questions that increase learning and engage students. The wrong questions shut down leaders, the right questions open up whole new worlds of thought.
Get more info.
This download resource is available instantly after purchase by clicking on My Downloads at the top of any page.NOTE: Downloading the video enables you to show from your own computer (no Internet required for screening) or to post in a CLOSED Group. Videos cannot be posted online where they are accessible to the general public. However, if you have a closed Facebook Group limited to volunteers from your church or another similar closed environment that protects the video from broader distribution, in those cases, you have permission to post online. Otherwise, online posting is prohibited. Thank you for respecting the copyright of these videos.
expire 7 days after purchase.
---
Related Products