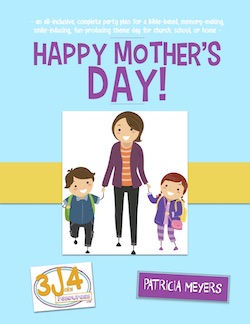 3John4 Resources Happy Mother's Day Party Plan
Elementary Party Plan
An all-inclusive, complete party plan for a Bible-based, memory-making, smile-inducing, fun-producing theme day for church, school, or home!
Enjoy Mother's Day in a brand new way this year!
How about making Mother's Day an EVENT in your Children's Church or Homeschool Group? Instead of just the same old craft to give mom, you can make the entire service one of fun, games, activities, and a lesson, all centered around moms. The families in your church or group will be amazed at how clever you are!
Included in each party plan manual are complete instructions for organizing one great Theme Day. Every suggestion, idea, skit, and lesson is centered around the theme. You get:
decorating ideas
several themed games
craft ideas
snack ideas
and so much more!
It's everything, seriously.
There is so much packed into the party plan that you will have to choose what you have time for - but don't miss out on the unique and funny craft, the crazy mommy-inspired games, and the lesson that every mom wants the kids to hear.
This download resource is available instantly after purchase by clicking on My Downloads at the top of any page.
---
Related Products