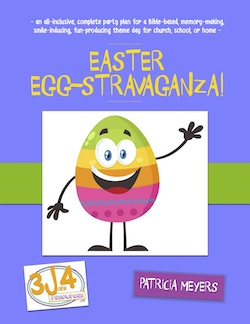 3John4 Resources Easter Egg-stravaganza Party Plan
Elementary and Preschool Party Plan
An all-inclusive, complete party plan for a Bible-based, memory-making, smile-inducing, fun-producing theme day for church, school, or home!
We know the holidays get busy, but don't get too busy to build great memories! This party plan makes it easy to do just that. Now you can easily create a memorable Easter event full of impact for the children and families in your church, homeschool group, whatever group!
Theme Verse:
Romans 6:4b
"As Christ was raised up from the dead by the glory of the Father, even so we also should walk in newness of life."
Included in each party plan manual are complete instructions for organizing one great Theme Day. Every suggestion, idea, skit, and lesson is centered around the theme. You get:
decorating ideas
several themed games
craft ideas
snack ideas
and so much more!
It's everything, seriously.
It even includes a Preschool Adaptation to make it fun for all!
This download resource is available instantly after purchase by clicking on My Downloads at the top of any page.
---
Related Products