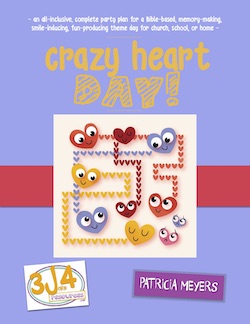 3John4 Resources Crazy Heart Day Party Plan
Elementary and Preschool Party Plan
An all-inclusive, complete party plan for a Bible-based, memory-making, smile-inducing, fun-producing theme day for church, school, or home!
Theme Verse:
1 John 4:7
"For Love is of God ..."
We all know and love that scripture. At Valentine's Day we would love for the kids to have a solid experience of the love and joy of the holiday centered in God's Love and His Word.
Here it is! A complete party plan created for just that experience. The kids will think they are just having a blast. You will know they are getting a great experience and impact from God's Word.
This party plan has everything you need (and probably more than you need) for a fabulous event. Included in each party plan manual are complete instructions for organizing one great Theme Day. Every suggestion, idea, skit, and lesson is centered around the theme. You get:
decorating ideas
several themed games
craft ideas
snack ideas
and so much more!
It's everything, seriously.
It even includes a Preschool Adaptation to make it fun for all!
This download resource is available instantly after purchase by clicking on My Downloads at the top of any page.
---
Related Products