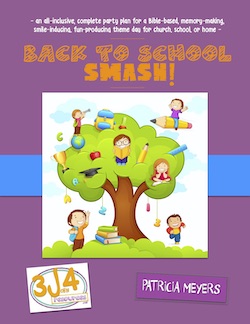 3John4 Resources Back to School Smash Party Plan
Elementary Party Plan
An all-inclusive, complete party plan for a Bible-based, memory-making, smile-inducing, fun-producing theme day for church, school, or home!
Want to plan a FANTASTIC event to bless the kids as they head back to school? This party plan is made just for that purpose: to wish the kids a "Smashing Good Year!"
Theme Verse:
Ecclesiastes 10:2
"A wise person chooses the right road; a fool takes the wrong one."
They will learn a great truth and have an absolute blast in the process.
Included in each party plan manual are complete instructions for organizing one great Theme Day. Every suggestion, idea, skit, and lesson is centered around the theme. You get:
decorating ideas
several themed games
craft ideas
snack ideas
and so much more!
It's everything, seriously.
This download resource is available instantly after purchase by clicking on My Downloads at the top of any page.
---
Related Products