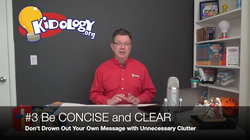 More Details ›
Ministry Management Video #05 - Communication Management
Part of the Ministry Management Video Series
All Access Members can
download the Ministry Management Video Series for FREE!
We have a lot of information to get out to a lot of people - kids, parents, volunteers, leaders, and even our community. The problem is, everyone else is communicating with them too and our message can get lost. In this Ministry Management training video, Pastor Karl talks about the Why, What, Who, When and How of Ministry Communication and offers some power tips for increasing the effectiveness of your communication.
Get more info.
This download resource is available instantly after purchase by clicking on My Downloads at the top of any page.
---
Related Products