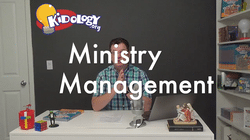 More Details ›
Ministry Management Video #12 - Ministry Management
Part of the Ministry Management Video Series
All Access Members can
download the Ministry Management Video Series for FREE!
The most important part of Ministry Management IS the Ministry.
It's been said the worst thing about ministry is the people and the best thing about ministry is the people. In fact, the ministry IS people! Jesus didn't say to "Go into all the world and start programs and plan events." He said to go and make disciples. That is our High Calling and Ultimate Purpose and we have to be careful that all this "stuff" we have to manage doesn't distract or take away from that Mission!
This download resource is available instantly after purchase by clicking on My Downloads at the top of any page.
---
Related Products