Prayer Zone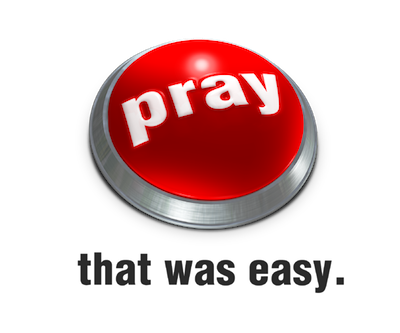 Teaching on Prayer?
This may just be an answer to prayer!
Here is a collection of Object Lessons, Devotionals, Games, Puppet Routines, and more... all dealing with the subject of prayer! Gathered together from all over the site in one easy place!
Don't miss Karl's Kids Concert of Prayer Plan!
The trouble with our praying is, we just do it as a means of last resort. ~Will Rogers
‹ Back to Zones
Guest

›
Starter

›
All Access
Level
Title
Topic
A Winner's Prayer

God Answers a Surprise Prayer Request.

Prayer
God Provides

A missionary prays for a miracle. God showed that He was real and that He loved the people. Many people started to follow Jesus because of the great miracle that happened.

Missions, Prayer, Faith
The Prayer of Jabez Skit

The prayer of Jabez puppet skit (1 Chronicles 4:9-10)

Prayer
The Prayer Pair

The first puppet demonstrates the good way to pray, while the other prays for his own good.

Prayer
Tommy's Prayer

Tommy never doubted that he was loved. He knew that whatever he faced in life, Jesus would be with him.

Prayer, trust in God, faith
Jesus in My Neighborhood? Lesson and Video

Jesus in My Neighborhood? - Part 3 of 3: This is a FREE lesson and video download (for All Access members) on JESUS IN MY NEIGHBORHOOD. The video features Jesus visiting a boy for his bedtime prayers and giving him a surprise answer to prayer!

Jesus in My Neighborhood? Series (3 of 3)
Karl's Concert of Prayer

Pastor Karl shares the details of the Concert of Prayer he hosted at his church.

Prayer
Noduh, the Wise One - Spiritual Disciplines: Chapter 4

This is Chapter 4 (of 11) for a series on the Spiritual Disciplines. It features "Noduh, the Wise One" and was written for the fourth God's Team unit in the Kid's Church Lessons Zone.

Prayer as a Spiritual Discipline
Praisin' in Prayer Puppet Show Recording

A puppet show between a giant pen and a giant pair of sun glasses discussing the need to praise God during prayer.

Prayer n Praise
Talkin' to the Coach

This PowerPoint introduces the discipline of prayer to children. While we often talk about HOW to pray with children (I hope), this lesson focuses on how to develop the discipline of prayer.

Prayer
Teaching Your Children to Pray Grace-Filled Prayers

Someone once said that the definition of grace is: God's Riches At Christ's Expense. Because of what Jesus did for us by dying on the cross, we have all of God's richest blessings – most importantly – we are saved by His grace from all of our sin. By His grace, God has called us...

Grace & Prayer
The Super Duper Impossible Game Show!

A Game Show that illustrates we can always call on God for help!

Calling on God in Prayer
Training Kids to Pray in Group

3 practical ideas to help your kids pray from the H.E.A.R.T

Prayer, Praise, Guiding
Who is Jesus? Lesson and Video

Jesus in My Neighborhood? - Part 1 of 3: This is a FREE lesson and video download (for All Access Members) on WHO IS JESUS. The video has puppets answering the question, "Who is Jesus?"

Jesus in My Neighborhood? Series (1 of 3)
Who is My Neighbor? Lesson and Video

Jesus in My Neighborhood? - Part 2 of 3: This is a FREE lesson and video download (for All Access members) on WHO IS MY NEIGHBOR. The video has puppets answering the question, "Who is Your Neighbor?"

Jesus in My Neighborhood? Series (2 of 3)
Windshield Prayer Cards

Let your ministry encourage the whole church as you give the kids an opportunity to pray.

Prayer, Ministry
Can We Keep her?

A child's prayer for a dog teaches Dad a lesson.

Prayer
Parent Prayer Warriors

Prayer is a critical line of defense which parents of today must not neglect, overlook or postpone. Here are some important things to consider as you prepare to do battle for your children:

Prayer
Practical Ways To Encourage Children To Pray

In surveys given to Christian adults about prayer, there are two main reasons given why we don't pray as much as we know we should. The first answer is, "Because I'm too busy." The second should shake the core of the Church: "Because I don't know how." Many answering this survey have been raised in Christian homes.

Prayer
Prayer Evangelism for the Family

Practical ways to fulfill the Great Commission at Hom

Prayer
Praying Scriptural Blessings Into The Lives Of Your Children

Our children are facing difficult circumstances daily. No matter what culture they are living in, there are always pressures and temptations to do the wrong things. As parents, we can teach, by our example and our words, what is right. Yet even children who know Christ face struggles that pull them away from doing "the right thing."

Prayer
Preparing The Next Generation For Revival

Author Cheri Fuller has developed a wonderful three-step model for engaging children in prayer: invite, equip and release. When applied to revival praying, this model takes on powerful significance.

Kids and Prayer
Teaching Children To Pray: Some Basics From The Scriptures

Children can be taught the basics of prayer from the Lord Himself, who has given us some very specific instructions. The simplest and most powerful way that children (and adults too) can grasp and understand prayer is to read and follow God's How-To Manual of Prayer--The Bible. Study one of these prayer concepts together each week and put them into practice so that children will begin to weave prayer into the fabric of their every day lives. The Lord will be faithful as your children grow in their prayer lives.

Prayer
10 Ways To Build a Prayer Team for Your Children's Ministry

Do you have a prayer team for your children's ministry? One of the most powerful tools believers have in ministry is prayer! Here are ten ways to build a prayer team for your children's ministry.

Children's Ministry, Prayer
15 Prayers for Kids in School

Let's commit to intentionally praying for our kids this school year.

Prayer, Back to School
Act Like a Fool

Don't be afraid to get emotional over your relationship with God.

Worship, Relationship
Do You REALLY Believe in Prayer?

Of course, as Christians we are called to pray in everything. But how big of a role does it really play in your ministry?

Prayer
Fasting 4 Kidz Journal

Here is a great resource for helping kids learn how to fast.

Fasting for Kids
How I Teach Kids About The Holy Spirit

It's critical that we not just talk about the Holy Spirit, but that we teach kids how to actually hear the voice of the Holy Spirit.

Holy Spirit
How Should I Pray?

The Answer Guys bring you another excellent children's puppet script to help children learn about prayer!

Children's Skit, Puppet Script
How to Teach Children to Pray: "Who Prayed in the Bible?" Game

A simple game to help remind kids that God answers when we pray.

Prayer, Games
Let Us Pray--Bible Lesson for Children

This lesson is designed to teach children how to pray using The Lord's Prayer.

Lord's Prayer, Bible Lesson
Ministry Problems--Is It Plugged in?

Call a tech helpdesk and one of the first questions asked is "Is it plugged in?" Duh, yes. But, oh wait, let me make sure ...

Personal Growth, Relationships
Prayer Meeting

This power point will guide children through a prayer meeting. It will help them to know what to pray for.

Prayer
Prayer Request Blitz

This is a great ice breaker. It is also a good way to teach the importance of caring for one another and praying for each other.

Teaching
Praying with Mike and Ike

Using Mike and Ike candies as a way to help kids learn to pray and to connect the things around them with reminders to pray.

Prayer
Quotes About Prayer

A collection of quotes about prayer from the Internet - evaluate and use with discretion.

Prayer Quotes
Teaching Kids to Pray

Teaching kids to talk to God and hear from him is one of the most transformative parts of the small group experience, so be intentional about making it a priority in your time together.

Prayer
Teaching Tip: Pray as you Prep!

How much of your lesson prep time is spent in prayer?

Lesson Prep
The Parable of the Persistent Widow

It takes persistence to get to the center of the lollipop! Just like with the lollipop, Jesus tells us to be persistent in our prayers.

Prayer, Persistence
The Single Greatest Recruitment Tool for Kidmin

After years and years of ministry, I have discovered that there is no greater tool for recruiting volunteers for children's ministry.

Leadership, Prayer, Recruitment
What do you think of when you think about God?

How do we disciple kids in such a way that they love Jesus more as a result?

Gospel, Gratitude
When Is The MOST Critical Time For A Child's Spiritual Growth?

Don't underestimate a child's ability to understand and to worship.

Spiritual Growth
Bird of Pray

Prayer is talking to God about His greatness, admitting to Him our sins, and asking for His work to be done.

basics of prayer
Blanket of God's Presence

Use a blanket to help the children pray.

Prayer
Christmas Prayer Reminder
Christmas
Eh! What Did You Say?

We are so blessed to have God there to help us whenever we call out to Him.

Psalm 4, Prayer
From Playing to Praying

How to Involve Children in Church Prayer

Prayer
Get the Right Tool
Prayer
Greetin' a wiggle tamer for a prayer lesson

Have the kids greet each other in a hurry. Be very fast and move on to the next person as quickly as they can. Let's see how many people we can greet before time is called. You and the adult volunteers take part as well. Get into it!

Fidget Buster
Showing 1 - 50 of 92 results