Categories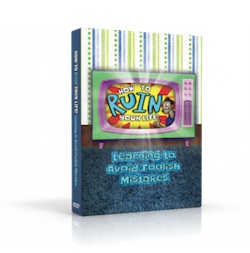 More Details ›
High Voltage Kids Ministry How to Ruin Your Life Curriculum Download
Six-lesson download on the power of choices
In this six-week curriculum series, your children will learn from the stories of Adam and Eve, David and Bathsheba, Joseph, King Solomon, Jacob and Esau, and the nation of Israel. They will discover how each of these Bible characters faced tough situations—some made wise decisions and some made foolish decisions. Each lesson will teach the children some of the foolish decisions to avoid—based on the lives of these characters.
Each lesson includes high impact video segments, graphic slides, Bible story with graphics, games, skits, object lessons, and more. Plus, small group lessons and family devotions to reinforce the large group lesson..
Click here
for more details.
This download resource is available instantly after purchase by clicking on My Downloads at the top of any page.
---
Related Products