Categories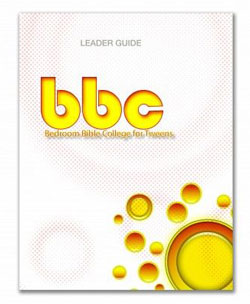 J12 BBC Curriculum Leader's Guide
I Must Be About My Father's Business
The
BBC
Leader's Guide will help your students become more like Jesus with this dynamic curriculum aiding teachers, parents, and pastors on their journey with their preteens.
Each of the 13 sessions helps tweens discover a different aspect of how they can turn their bedroom into a Bible College, teaching them principles of reading the bible with understanding, memorizing scripture, personal prayer, sharing their story, and other essentials needed for a tween to own their faith.
The Resource CD includes 13 Take Home Challenges that inspire students to work up to a commitment of giving God 12 minutes of quiet time each day, and 52 Memory Card Slides to help you encourage meditation each week.
BBC
is a curriculum that will guarantee that your tweens will be "about their Father's business" even after the quarter is over!
Click here for a
sample lesson.
A student
book
to use along with this curriculum is also available on Kidology.
---
Related Products