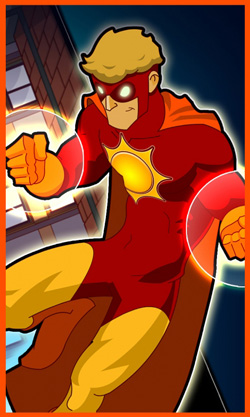 Rescue Me! Book (Download)
What Superheroes Can Teach Us About the Power of Faith
Did you know that superheroes can teach us about far more important things than action and adventure?
Part comic book (graphic novel), part kids' devotional,
Rescue Me!
weaves together the adventures of
Captain Sun
with the timeless message of the Bible in order to help kids of all ages think of superheroes, not just in terms of fun, but also in terms of faith.
This is a classic comic book hero in a classic, family friendly comic book story, interspersed with lessons connecting themes in the story to the timeless truths of the gospel.
Not only will kids love this book, but it's also a great resource for parents or grandparents , and a great gift to give a child or young person who has not heard the Good News of Jesus.
Click
here
to view a sample of
Rescue Me!
Delivery of your Rescue Me! book will be via a secure download link sent by e-mail shortly after purchase. Links expire 7 days after purchase.

This download is for your personal use and is not to be shared, loaned, given, or copied for other organizations by any means electronic or mechanical.