Movie Review: Jonas Brothers: The 3-D Concert Experience
Membership Level› Guest
Author/Source: Nancy Keith
Topic: Movie Review, Reviews
A review of Jonas Brothers: The 3-D Concert Experience, including description of the movie, areas of concern, teachable themes, discussion questions, and scriptures to use.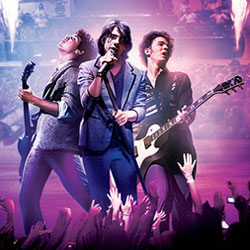 Overview

Nick! Joe! Kevin! AAAAAAAAAaaaaaaaaaaaaaa! Add some JoBro music...throw in some 3D glasses, Demi Lavato, Taylor Swift and backstage footage and you've got the Jonas Brothers: The 3-D Concert Experience

For those of you who experienced the Hannah Montana concert film last year, you are probably saying, "Not again!" This, however, was a pleasant experience...probably because of the versatility and talent of the Jonas Brothers. These are not cookie-cutter, prefab stars and songs. Their music has depth. I thoroughly enjoyed the experience.

This movie gives you an up close and personal look at a concert and what goes on behind the scenes. The film shows excerpts from the Jonas Brothers' 'Burning Up' concert tour. There are lots of loyal, ecstatic, screaming fans and zany JoBro segments. Jonas Brothers: the 3-D Concert Experience really tries to give you insight into the lives of this famous family.

I had the joy of sharing the IMAX "Experience" with three of my nieces. The 5-year-old is a Hannah/Jonas mega fan. She wore her Jonas shirt with great pride. The 11-year-old wanted to see the movie and likes the Jonas Brothers, but is way too cool to admit it publicly. The 17-year-old went along for the ride...hey, she got to skip school! We had a blast! We laughed, we sang, we screamed, we did the wave...we thoroughly enjoyed the movie. Was it worth the $17.50 per ticket price tag? Probably not, but the family time was priceless.

Most people assume the Jonas Brothers are just another Disney find, but the truth is that the trio has been working hard at their craft for some time now. Youngest brother, Nick, is the prodigy. He is the driving force...the greatest talent of the three. The other brothers take direction from him. Nick had his start on Broadway in A Christmas Carol, Annie Get Your Gun, Beauty and the Beast and Les Miserables. Joe played the Artful Dodger on Broadway in Oliver! Joe also sang opera in La Boehme. All three brothers starred in commercials. In 2004, Nick Jonas did a CD of mostly spiritual songs for Columbia Records who later signed all the brothers. After one CD, Columbia Records dropped them because "the indicators were not there." They found an audience on the internet and it was there they caught the eye and ear of Bob Cavallo, the chairman of Buena Vista Music Group, and the rest has been mouse history...with a lot of hard work by the Jonas family.

For this audience, it is important to note that the Jonas family is a close-knit, humble, Christian family. Their parents met at Christ for the Nations Bible College in Dallas. Afterwards Dad, Kevin Sr., became a Pastor. The Jonas Brothers grew up in church. On youTube you can see a clip of a very young Kevin singing I Am Amazed. They went to Christian school. They pray together. They study God's Word together. They wear purity rings. It is genuine. They don't deny any of this. In the August 2008 Rolling Stone father, Kevin Sr., said, "On a personal level, faith is extremely important. But I kind of cringe every time I read references to them being a Christian band, for the simple reason that they don't sing Christian music. Probably because of my background, the boys get lumped into Christian-music genre. But it isn't their genre."

Concerns

For the first time in a long time I can say that there were no real concerns in this movie. There is one scene, seconds long, where the brothers come back stage. Joe takes his shirt off and puts on another one. The others are starting to change, too, but you never see it. After the movie, my five-year-old niece kept referring to this as the "naked" scene. It wasn't.

Teachable Themes
Worshiping Idols

The word "idol" is often used to describe stars in the entertainment field. While they not be statues or graven images, often these larger than life images that we project on personalities like the Jonas Brothers cause us to "worship" them in a way...giving all our time, attention and even love to them. We must strive to be balanced.


Prayer

The Jonas Brothers pray and dedicate all of their concerts (and everything they do) to God.


The Importance of Parents/Family

The Jonas Brothers look to their parents for guidance and rely on family to help them along the way.


Expectations

While the Jonas Brothers are Christians and seem dedicated to their faith, the possibility exists that they will fall and make mistakes along the way. They are human and like all of us, they are sinners.


Riches

The Jonas Brothers are obviously making a lot of money doing what they do.


Fame

Who could be more famous that the Jonas Brothers? What does fame bring?


Be an Example

Wherever you are whatever you do, be an example.


Biblical References
On Idols

Exodus 20:4-5 "You must not make for yourself an idol of any kind or an image of anything in the heavens or on the earth or in the sea. You must not bow down to them or worship them, for I, the LORD your God, am a jealous God who will not tolerate your affection for any other gods." (NLT)


Prayer

1 Thessalonians 5:17 "Never stop praying." (NLT)


Parents

Deuteronomy 31:6 "Children, obey your parents because you belong to the Lord, for this is the right thing to do." (NLT)

Proverbs 15:5-6 "Only a fool despises a parent's discipline; whoever learns from correction is wise. There is treasure in the house of the godly, but the earnings of the wicked bring trouble." (NLT)


Expectations

Psalm 40:4 "Blessed is the man who makes the LORD his trust, who does not look to the proud, to those who turn aside to false gods. Oh, the joys of those who trust the Lord, who have no confidence in the proud or in those who worship idols.

Psalm 118:8-9 "It is better to take refuge in the Lord than to trust in people. It is better to take refuge in the Lord than to trust in princes." (NLT)


Riches/Fame

1 Kings 3:13 "And I will also give you what you did not ask for—riches and fame! No other king in all the world will be compared to you for the rest of your life! Note: The whole story of Solomon asking for wisdom [1 Kings 3] would be great to share here.)" (NLT)

Proverbs 22:1 "Choose a good reputation over great riches; being held in high esteem is better than silver or gold." (NLT)


Be an Example in All You Do

Psalm 71:6-8 "Yes, you have been with me from birth; from my mother's womb you have cared for me. No wonder I am always praising you! My life is an example to many, because you have been my strength and protection. That is why I can never stop praising you; I declare your glory all day" (NLT)

Colossians 3:17 "Work willingly at whatever you do, as though you were working for the Lord rather than for people." (NLT)


Discussion Questions
Who is your favorite Jonas Brother? Why?
What is your favorite Jonas Brothers song? Why? Can you sing it for me?
What one important thing in your life would you give up to meet the Jonas Brothers?
The Jonas Brothers pray before they sing? Why do you think they do that?
Do you think the Jonas Brothers have to work hard?
The Jonas' parents are very important to them. They are with them most of the time. Why do you think it is important to turn to your parents and respect them?
Some people call the Jonas Brothers "Teen Idols." The Bible tells us that we shouldn't worship. We know you would never physically bow down and worship them, but what are some ways that we do give our affection and hope to teen idols?
The Jonas Brothers are very famous. What do you think would be great about being famous? What would be bad about being famous?
The Jonas Brothers are making a lot of money doing what they do. Can you trust in riches?



Conclusion

I would go to see this one again...except for the cost...so, me and my girly-girls will just wait for the DVD. It was a whole lot of fun. Although I have mentioned the cost a few times, I have to say it is still a whole lot cheaper than going to a concert, and you have better seats and sound. Enjoy!