Movie Review: Inkheart
Membership Level› Guest
Author/Source: Nancy Keith
Topic: Movie Review, Reviews
A review of Inkheart, including description of the movie, areas of concern, teachable themes, discussion questions, and scriptures to use.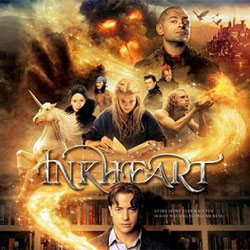 Overview

Mo Folchart is a silvertongue...a gifted storyteller who reads the written word and when he does, somehow, some way, characters come out of the book and come to life. He has no control over who or when. This really became a problem while reading the book Inkheart. Many characters, mostly bad and ugly, came out of the book...and his wife got sucked in! He is left to care for his daughter alone.

Twelve years later, he works as a bookbinder and takes his daughter, Meggie, from bookstore to bookstore repairing books and searching for another copy of Inkheart hoping to read his wife back out. He does eventually find another copy of the book. Dustfinger,one of the characters that he read out, wants Mo to read him back home into the pages of the book. Not far behind is a posse of the bad characters from the book, led by Capricorn, a menacing villain. He has built a castle on a mountainside just like his castle in the book. Capricorn needs Mo to read for him to bring him power and riches.

Capricorn kidnaps Mo and his daughter, Meggie. They escape, then are recaptured and must rely on a group of friends, both real and imagined, to bring down Capricorn, set things right and restore Mo's wife.

Inkheart, is based on the first book of the Inkworld Trilogy, young adult-child fantasy novels by Cornelia Funke,. Inkheart comes to us from Germany. Its original title Tintenherz, and has been so popular that it has been translated into 37 different languages.

There are so many ways that you could play with the concept of the Word using this movie to teach. When a silvertongue reads, the written word becomes living and active...God's Word is always living and active.

Concerns

There is a good bit of violence in this movie and people do get hurt. There is no bloodletting. The bad guys are bad guys and scary. God's name is misused several times.

Teachable Themes
Family is Important

Mo Folchart's goal is to protect and reunite his family.


We Choose the Path We Take

Dustfinger realizes that he has choices in how his life will be lived. He chooses an honorable path.


Keep Your Promises

Mo is a man of his word and honors his promises.


Trust in God When Things Get Tough...Be Strong and Courageous

Meggie was so fearful, but was strong and courageous and that saved her family and friends.


Biblical References
God's Word is Living and Active

2 Timothy 3:16
"All Scripture is inspired by God and is useful to teach us what is true and to make us realize what is wrong in our lives. It corrects us when we are wrong and teaches us to do what is right." (NLT)


God's Word Comes alive.

Isaiah 55:11
"It is the same with My Word. I send it out and it always produces fruit. It will accomplish all I want it to, and it will prosper everywhere I send it." (NLT)


Don't Be Afraid to Do What is Right

Deuteronomy 31:6
"Be strong and courageous. Do not be afraid or terrified because of them, for the LORD your God goes with you; he will never leave you nor forsake you."." (NLT)


Seek God's Way When Problems Arise

Proverbs 14:12
"There is a way that seems right to a man, but in the end it leads to death." (NIV)


Discussion Questions
What is your favorite fairytale? Why?
If you could bring a character out of a book, who would it be and why?
Have you ever said anything to someone that you could tell really hurt them, and you would like to take those words back? How did that feel?
Have you ever really had to be brave, and do something that seemed way beyond what you were able? What happened?
What kind of things are you afraid of?
What do you do when you are afraid?

Conclusion
This is a great fairy tale of the slightly dark variety. If you read the unabridged Hans Christian Anderson or Brothers Grimm you will find that most of the good fairytales were written that way. The Little Mermaid, in the original text, does not marry the prince….she turns into seaweed and floats away. This fairytale does have a happy ending. I would not recommend it for smaller children because it is a little intense. It was fun to see characters from different stories….like the flying monkeys from the Land of Oz. I really enjoyed the film.