Movie Review: Hotel Transylvania
Membership Level› Guest
Author/Source: Nancy Keith
Topic: Movie Review, Reviews
A review of Hotel Transylvania, including description of the movie, areas of concern, teachable themes, discussion questions, and scriptures to use.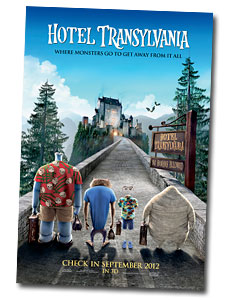 Overview
Dracula has a problem. His daughter, Mavis, is turning 118 and wants to spread her wings and fly away…which incidentally she can do because she's a vampire and can quickly transform into a bat. Papa Dracula wants her to stay home where she is a protected in a top secret hotel, the Hotel Transylvania that he built only for monsters and the like. No humans allowed because everyone knows that humans are dangerous to monsters. It was humans who burned down Dracula's home and killed his wife. Monsters are merely understood. Humans- now those are the ones to be feared. It is the eve of Mavis' birthday and every monster that is any monster is checking in to join in the celebration. Also checking in? Jonathan, a world traveling backpacker named Johnny, and when he checks in mayhem begins.

Concerns
Like Monsters, Inc. this movie is full of zany monster characters, some good and some bad. Unlike Monsters, Inc. we know these monsters….Dracula, Frankenstein, Bride of Frankenstein, the Mummy, the Invisible Man, Werewolf and more, each with their individual idiosyncrasies, but more humorous. There are ghosts, ghouls and goblins. Even though these monsters do have special abilities, none of them are remotely explained or presented as spiritual.

When Dracula gets mad, he gets scary, really scary. His eyes turn red. His face gets demonic. His fangs come out. He does explain that he would never kill anyone because that would, "Set monsters back hundreds of years." Dracula, however, no longer drinks blood because, "It's so fatty, and you never know where it's been." This was not a movie I would take young children to, yet when I went to the movie there were several young children there who were really scared.

In order to protect his daughter, Dracula lies about who Johnny is, among other things, and he constructs a major deception to try to keep his daughter at home. Dracula does show remorse for these acts. While his heart might be in the right place, his actions not so much. As Dracula says, "As a father you do everything you can to keep your family safe, even if that means you have to break their trust."

There are some fight scenes, but the slapstick violence is not unlike what a child would see in any secular cartoon. There is a fair share of bathroom-type humor with monsters passing gas, etc. There is also a bit of sexual innuendo.

There is no profanity or misusing God's name.

Teachable Themes
Family is Important

This is Adam Sandler's second movie for children and this is a recurring theme and an important one to him. Speaking of his father, Sandler said, "He taught my whole family that family was the most important thing, and no matter what, if a family member needs you, you go and help them out, you get there."

Be Who You Are

We should not be ashamed to be who we are.

We Should Not Prejudge People

Humans can be nice...and so can others we don't understand.

Don't Lie

Lying does not help any situation get better. Be truthful.
Biblical References

While there are no Biblical references in this film, these could be applied:
Don't Lie

Proverbs 17:20 "The crooked heart will not prosper; the lying tongue tumbles into trouble." (NLT)
Proverbs 19:5 "A false witness will not go unpunished, nor will a liar escape." (NLT)

Outward Appearances Don't Really Matter

1 Samuel 16:7 "But the LORD said to Samuel, "Do not consider his appearance or his height, for I have rejected him. The LORD does not look at the things man looks at. Man looks at the outward appearance, but the LORD looks at the heart." (NLT)
Discussion Questions
What do you want to do when you grow up?
Are you scared of people who look or act different?
If you could travel anywhere, where would you go?
Does lying ever help a situation?
What is the scariest situation you have ever been in?
What is the best hotel you have ever stayed in?
Conclusion
Hotel Transylvania is a film about a father/daughter relationship and a budding romance between a human and a vampire. While the actors do an incredible job voicing this movie, the story is just kind of ho-hum. It has some life lessons packaged between monsters passing gas and peeing on the furniture. This wasn't a bad film, but it also one that I would never use in children's ministry. It is a bit too scary…and the bathroom humor will be repeated and repeated and repeated