Movie Review: Winnie the Pooh
Membership Level› Guest
Author/Source: Glen A. Woods
Topic: Movie Review, Reviews
A review of Winnie the Pooh, including description of the movie, areas of concern, teachable themes, discussion questions, and scriptures to use.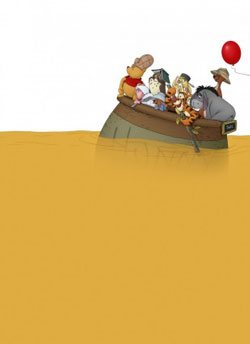 Overview
Winnie the Pooh wakes up on cue. Almost. Okay, not quite. As the film opens, he requires a bit of prompting from the narrator, even to the point of his house being turned upside down. But finally he does wake and not a moment too soon because his tummy begins to quake. After searching each honey pot in his home, Pooh realizes it is all gone! So, off he goes in search for his beloved mealtime fare, only to be distracted by Eeyore's despair. Eeyore has lost his tail! Now he is grumpy and sad with no tail to wear! When Winnie the Pooh and his friends try to help Eeyore, they realize that Christopher Robin has been abducted by the Backson, a huge creature of indescribable (because he doesn't really exist, except in the vivid imagination of the Owl, who misreads Christopher's painfully misspelled note) scariness.

So begins this adventure of Winnie the Pooh and his companions. Written to appeal to preschool age children, the film recovers the whimsy found in Disney films of old. It clocks in at barely over one hour (1 hour, 9 minutes), which is just about right for its intended audience.

Winnie the Pooh is a tale of friendship, priorities, and the joy of living each day to the full.

Concerns
The film is rated G. The imaginary Backson monster might cause a bit of fright for very young sensitive children. The issue is quickly resolved to reveal the monster does not exist, but some children might still become fearful.

Also, Eeyore is very negative throughout the film, in keeping with his character in the books. Parents could use this as an opportunity to explore with children the consequences of negative attitudes.

The film has several points where typical storytelling conventions are overruled, such as the characters interacting with the narrator and with pages, words, and letters from the book. Some children might not completely understand the symbolic nod to the story's literary roots the filmmakers hope to invoke.

Teachable Themes
Friendship
Pooh and his friends are quick to help out Eeyore and Christopher Robin. They stick together as friends and figure out ways to use their respective abilities to solve their problems.


Putting the Needs of Others Before Your Own
Pooh really, really wanted some honey to ease his grumbling tummy. But in the end, he did the right thing and helped Eeyore reunite with his tail, even though he could have first had some honey.


Biblical Reference
Friendship

Ecclesiastes 4:10: If one falls down, his friend can help him up. But pity the man who falls and has no one to help him up!


Proverbs 12:26: The righteous gives good advice to friends, but the way of the wicked leads astray.


Hebrews 3:13 But encourage one another daily, as long as it is called Today, so that none of you may be hardened by sin's deceitfulness.



Putting the Needs of Others Before Your Own

James 2:16-17: If one of you says to him, "Go, I wish you well; keep warm and well fed," but does nothing about his physical needs, what good is it? In the same way, faith by itself, if it is not accompanied by action, is dead.


Romans 12:10: Be devoted to one another in brotherly love. Honor one another above yourselves.


Philippians 2:3: Do nothing out of selfish ambition or vain conceit, but in humility consider others better than yourselves.

Discussion Questions
Have you ever thought about leading your group of friends to help someone out? What would that be like? What could each of you do? What difference would it make in the life of the person you are helping?


Do you have a friend who is like Eeyore, always sad and negative? Are you ever like that? How can you help a sad person? How can you find help if you are sad?


Have you ever had to choose between something you want to do and helping a friend? What did you do? What happened afterward?
Conclusion

Winnie the Pooh is a sweet romp into the world of Pooh and his friends. It is full of music, humor, just enough conflict to keep things interesting, and above all, friendship. Although most movie-goers seem to have opted for other current releases on the day I viewed the film, Pooh is definitely worth a look for families who miss the age of innocence in the theater.