NOAH'S ARK ANIMAL MIX UP
Membership Level› Guest
Author/Source: Karl Bastian
Topic: Noah's Ark
A super fun mixer game that introduces Noah and the Ark
Noah's Animals are all mixed up! They need to get paired before the rain starts to fall and get onto the ark!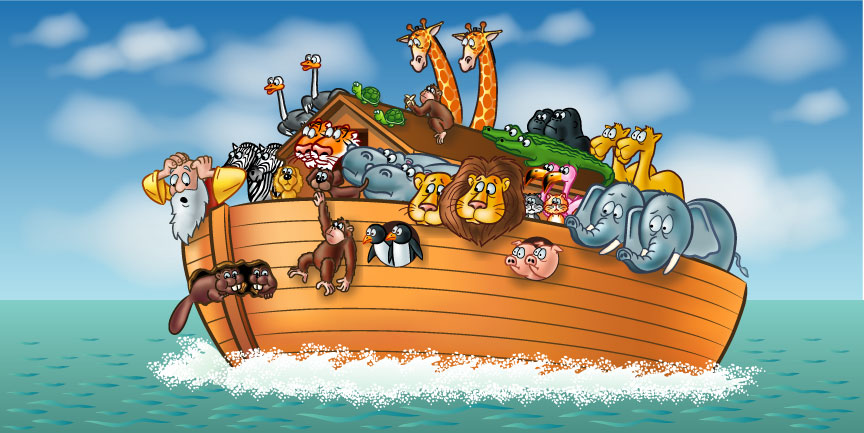 This game is very similar to the Barnyard Scramble game also on this site, but instead of the kids gathering into groups base don making animal noises, in this version, they are pairing up in sets of two to get onto the Ark!
INSTRUCTIONS: (Don't skip the important notes below) Pass out the cards and the kids, all at the same time, try to find the other child with the same animal. However, THEY CAN NOT TALK, they can ONLY make the noise of the animal they are assigned! It will get noisy, so they will need to move around the room listening to the other kids. Acting out the animal with their bodies is OK, and being as loud as they need to, or softly (if they are a quiet animal) is OK too. Once they find their pair, they sit down quietly, so the game gets easier as there are less and less kids looking for their pair.
Play as many times as time allows. It's a little chaotic, but a lot of fun!
SET UP: Attached below is a PDF that has 24 different animals, meaning that up to 28 kids can play this game at one time. If you have more than that, just print extra cards. You'll need to print TWO sets so that you have pairs of cards.
NOTE: It's important to only have as many pairs as kids you have! So don't shuffle the cards! Have the cards cut and already in a stack with the cards paired up. COUNT THE KIDS and make sure you have an even number of kids. If you don't have a leader join to the kids to make an even number. Once you know the number of people playing, you cound off that number of cards off the deck, and THEN SHUFFLE the cards.
FOR EXAMPLE: if you have 16 kids, you have 8 pairs of animails. You stack of cards should be already paired up in the stack: 2 bears, 2 birds, 2 snakes, 2 sheep, etc. Count out 16 cards, and the set the rest asside and shuffle your 16 cards and then pass them out. That was there will be a pair for every two players and no one left without a match.
ALSO NOTE: If you print the PDF back to back (long-side lined up) than a hint at the noise to make will be provided on the back of the card to help the kids know what noise to make. That is optional if you can't figure out how to print them two sides or don't have that capacity.